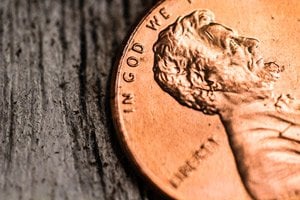 The top penny stocks to buy in 2019 can bring you massive returns and can even double your money in short order. That's why we're bringing you five of the best penny stocks to watch in January.
Penny stocks are defined as shares selling for $5 or less each. So even a small move in share price can result in huge percentage gains for investors.
While penny stocks can be risky, as they tend to be more volatile than shares of higher-priced stocks, the best of the class can yield skyrocketing returns.
There are over 2,500 penny stocks currently on the market. But we've narrowed the list down for you. We've utilized our Money Morning Stock VQScore™ to screen them all and choose only those with major growth potential.
The VQScore system screens thousands of stocks every day and boils a stock's total financial picture into just one number: its VQScore.
"Federal Rent Checks": Thanks to an obscure law, over 100 government agencies are required to pay rent. By following a simple investment strategy, you could receive checks of up to $1,795 every month. Read more...
Then, we find the stocks currently trading below a per-share price of approximately $5.
The result is a top five list of top penny stocks. And our very first choice has the potential to skyrocket 75% this year alone...
Penny Stocks to Buy in 2019, No. 5: Central European Media Enterprises Ltd.
Our No. 5 pick is Central European Media Enterprises Ltd. (NASDAQ: CETV), which is based in Bermuda. It's a subsidiary of U.S.-based Warner Media and broadcasts in four major markets in Eastern Europe.
CETV's audience totals over 40 million viewers and listeners. It offers 29 television channels.
In 2009, Warner Media bought a 31% stake in CETV. Over the intervening years, it has purchased more and more, so it owns 75% currently. That speaks well of Warner Media's confidence in the company.
In the past four years, the company has grown gross profits 14% and grown income 121%.
These strong patterns of growth are likely to continue going forward, too. The projection for revenue growth from paid TV, for example, is 20% over the next two years in CETV's four top markets.
The share price is currently $3.24. Analysts on Wall Street are estimating a $4.85 target price in a year, for close to a 50% gain.
Penny Stocks to Buy in 2019, No. 4: America First Multifamily Investors LP
Our No. 4 pick is America First Multifamily Investors LP (NASDAQ: ATAX). The company is a Burlington Capital Real Estate subsidiary specializing in mortgage revenue bonds (MRB) exempt from U.S. federal tax.
Both state and local governments issue MRBs to drive construction of affordable housing. ATAX uses the MRBs as financing for construction and to obtain interest that is tax-free. ATAX has 87 MRBs in its portfolio.
In the last decade, the United States has enjoyed a historically strong housing boom. As a result, the decade has been very profitable for America First.
ATAX has enjoyed a 70% climb in its gross profits during the past five years. During the same time, the company's net income rose 79%.
Observers believe these robust results will be sustainable in years to come as well. In fact, according to Tradesmen International, housing construction is estimated to rise by 4.5% over the next several years. Industry profits by 2020 are estimated at $1.2 trillion.
America First is a likely beneficiary of the potential for profit - and investors will share in the benefits.
ATAX has our highest VQScore and sells at just $5.82 per share.
Penny Stocks to Buy in 2019, No. 3: Container Store Group Inc.
Container Store Group Inc. (NYSE: TCS) specializes in storage and organizational products.
In the past two years, the company has opened 80 new chain stores nationwide in the United States, a robust campaign of expansion.
The expansion has resulted in a 7% rise in gross income during the last two years, a peak of profitability.
In the same period, net income advanced 277%. Costs either held stable or fell.
TCS is also reducing its debt at the same time it grows, an impressive testament to its bottom line strengths. In just 2018, the amount of debt on the books fell 10%. During the last six years, the debt outstanding has decreased 30%.
Investors should feel confident in a strategy this well-executed.
TCS currently trades at $5.84 per share. But the VQScore is forecasting a significant breakout.
Keep reading for our top two penny stocks to buy now...