The 5G revolution is here, and it's bringing with it the rare opportunity to get in on the ground floor of a technological breakthrough. Today we'll show you five our best 5G stocks to buy, plus an even more exclusive way to profit off of this event.
Last October, Verizon Communications Inc. (NYSE: VZ) announced that it had activated the nation's first 5G network in four American cities.
While Verizon's announcement didn't make headlines, the rollout of the next generation of high-speed data accessibility signals the greatest profit opportunity since the dot-com boom.
5G is the fastest mobile communication network ever devised. It's going to revolutionize our access not only to digital data, but to the world around us.
That's right, 5G is much, much more than better cell phone coverage. It's going to play a role in making everything from autonomous cars to the "Internet of things" a reality.
5G Is Coming: The Breakthrough of the Century Could Rest on This $6 Stock
And we want to get you in on the ground floor with five of the best 5G stocks to buy right now.
In fact, our top 5G stock to buy could double your money in just the next year...
Best 5G Stock to Buy, No. 5: Keysight Technologies Inc.
Keysight Technologies Inc. (NYSE: KEYS) is an American electronics company that develops equipment and software to measure and analyze electrical statistics.
Over the last few years, Keysight has positioned itself to be at the center of the 5G network expansion. Much like a traditional communications system, 5G requires a substantial network of hardwires and broadcast towers in order to function.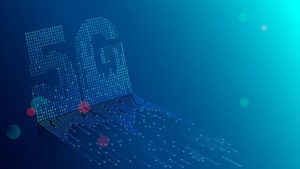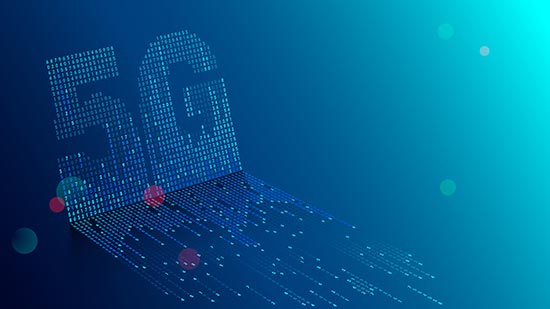 In order to build this network, the nation's top 5G companies will require thousands of instruments that can collect electronic data and software applications that can analyze network responses.
That's where Keysight comes in.
The company has developed a wide range of software solutions for the electronic field instruments necessary to build and expand the nation's 5G infrastructure.
And they already have the market cornered.
In 2017, Keysight partnered with the multinational semiconductor company Qualcomm Inc. (NASDAQ: QCOM) to pull off the first successful demonstration of a 5G data connection using a modem chipset.
This achievement was a massive milestone in making a nationwide 5G network feasible - and Keysight was on the front line.
With such a long head start, Keysight is likely to become a key player in the development of the nation's 5G network.
Our Money Morning Stock VQscore™ ranks Keysight stock as a 3.15, making it a solid buy right now. But if you wait for the stock to dip, you could get an excellent deal on one of the best 5G stocks on the market.
And you'll be glad you did. Analysts expect the company's stock to head to at least $100 - a 17% gain over today's share price of $85.24.
Our next 5G stock is one you've almost certainly heard of...
Best 5G Stock to Buy, No. 4: Intel Corp.
Founded in 1968, Intel Corp. (NASDAQ: INTC) is the world's second largest semiconductor company.
While Intel is most known for its computer processors, this veteran of Silicon Valley has spent the last decade laying the groundwork to dominate the 5G market.
In 2011, Intel acquired German modem maker Infineon. Infineon is the sole modem provider to Apple Inc. (NASDAQ: AAPL). And Apple uses Infineon's modem chips to connect the company's iPhones to mobile data networks.
Aside from its exclusive deal with Apple, Intel is the gatekeeper for Apple's ability to hook its devices into the 5G network.
Fortunately for Apple, Intel is ahead of the curb.
According to Intel Chief Executive Bob Swan, Intel plans to roll out a 5G modem later this year.
Not only will that bring the iPhone into the 5G era - it will create tremendous demand for Apple devices suited to tap into the 5G network. And that will make Intel a killing.
But Intel doesn't plan to ride Apple's coattails to profit.
The company is also planning to sell its 5G modems to automakers for use in 5G-connected vehicles as well as to manufacturers to use in digitally connected industrial equipment.
As Swan put it in a press conference last week, Intel is "at a stage where we believe we have products that are as good as anybody in the industry's as we move into 5G."
Wall Street certainly agrees.
Analysts have given Intel a price target of $70 - a 30% gain over today's price of $53.
However, we recommend you hold off on buying Intel just yet. The company currently has a VQScore of 3.75. While that means it's a great stock to buy, you can get better value on a dip.
Best 5G Stock to Buy, No. 3: Apple Inc.
If one company stands to make a killing off of the 5G revolution, it's Apple Inc. (NASDAQ: AAPL).
The maker of the world's most popular smartphone, Apple is likely to move on the global shift to 5G in an effort to reinvigorate its lagging iPhone sales and push into new industries.
In January, Apple downgraded its guidance, announcing that revenue would fall short of expectations due to weak sales in China and increasingly less turnover in customer iPhone purchases.
In addition, Apple's January earnings came in well under par, announcing on $84.3 billion in revenue for the last quarter of 2018 - a 5% drop year over year. And sales in the current quarter are expected to fall as much as 10%.
While that's still an incredible amount of cash for the company, it disappointed Wall Street. According to JPMorgan Chase & Co. (NYSE: JPM) analyst Samik Chatterjee, Apple's current financial position makes drastic innovation a necessity.
Chatterjee believes it's imperative that Apple use "its balance sheet strength to insulate the business against... disruptions in the technology landscape."
That's where 5G comes in.
Apple will be able to introduce new life into its classic devices by giving them the ability to access the 5G network. Not only will they be faster than prior devices, their 5G connectivity will allow them to do things never possible on slower networks.
Apple is aggressively pursuing this opportunity. According to reports, the company is working with Intel at breakneck pace to ensure the next iPhone has 5G connectivity.
And the company is also pushing into new frontiers made possible by 5G connectivity.
Since 2014, Apple has been working on "project titan," an under-wraps effort to develop a self-driving car system that could be used on a mass scale.
You see, self-driving cars rely on a constant connection to the Internet to manage navigation and process data. That can only happen when 5G goes live nationwide. And it means Apple's self-driving car could debut at just the right time to catch on.
And with a sterling VQScore of 4.45, there's no better time to buy Apple stock. Wall Street analysts project the stock could jump as much as 40% higher in the next year, but that might even be too conservative.
Best 5G Stock to Buy, No. 2: Micron Technology Inc.
Micron Technology Inc. (NASDAQ: MU) is hardware production company manufacturing computers and semiconductors around the globe.
The company is laying the groundwork to be a key provider of essential materials for 5G infrastructure development.
Central to its efforts is the development of a multichip package - a small but critical component of the modems used to harness and power the 5G network.
Micron's most recent multichip is designed to allow modems to run at speeds up to 20 times as fast as current LTE-advanced modems.
This kind of speed is currently unheard of in the data industry.
Because of the multichip's wide applicability, Micron will also be able to jump into every industry that 5G touches - from autonomous cars to digital home appliances.
As Micron vice President Kris Baxter points out, "5G technology will drive further innovation in connected vehicles and deliver advanced functionality that is necessary for next-generation vehicles" and a range of other applications.
Baxter has every right to be confident - with a VQScore of 4.75 (our highest score) Micron is one of the best 5G stocks you can buy. Wall Street agrees too. Analysts have given Micron a price target of $90 as the company taps into the emerging 5G industry.
That's a 125% over today's price of $39.
But our top 5G stock right now is a sleeper pick investors simply won't see coming...
[mmpazkzone name="in-story" network="9794" site="307044" id="137008" type="4"]
Best 5G Stock to Buy, No. 1: Skyworks Solutions Inc.
Skyworks Solutions Inc. (NASDAQ: SWKS) is an American semiconductor company based in New England. And Skyworks is one of the most popular producers of the analog chips that enable devices to process the level of data 5G will demand.
While semiconductor companies are sure to benefit from the world's shift to 5G, Skyworks has a trick up its sleeve that puts it ahead of all the rest.
As Skyworks CEO Liam Griffin points out, the ubiquity of 5G is going to line the company's pockets.
"Looking ahead, 5G technology will fuel a broad array of markets and applications ranging from industrial IoT, automotive, machine-to-machine, healthcare, smart cities as well as artificial intelligence," Griffin said.
But the real profit is likely to come from the company's role in mobile device production.
You see, each mobile upgrade raises the amount of semiconductor production required. And this results in greater compensation for Skyworks.
In 3G phones, Skyworks made around $8 for every phone that used its technology. When 4G came around, that amount more than doubled to $18
With 5G, management projects that they will make $25 a phone. That's a 40% increase.
With mobile phones accounting for 73% of Skyworks's first-quarter sales, it's evident that 5G expansion will make the company a killing.
That's why the company's stock is a steal at $83. Analysts have projected that the company stock will jump to at least $173 when the 5G revolution takes hold.
That's a 113% return. But Skyworks also has our top VQScore, making this one of the best plays on the market right now.
But these aren't the only ways to cash in on 5G.
In fact, Silicon Valley insider Michael Robinson - who called both the cryptocurrency and cannabis booms - is out with a new prediction on 5G.
He says this $6 company no one is talking about could skyrocket in 2019.
Here's how you could make 10 times your money from this red-hot phenomenon.