The next generation of mobile networks – 5G technology – will be revolutionary, and it won't just mean better phone coverage. Of course, a monumental tech breakthrough like this has investors licking their chops at the chance to invest in the best 5G stocks. We'll solve that problem for you in a second.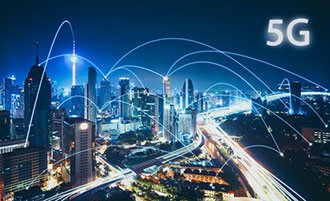 But first, we want you to know how 5G can change everything from how we watch TV to how we interact with everyday appliances around the house. And that means it's a massive moneymaking opportunity for those who know where to look.
This new technology will offer markedly faster connections, with average download speeds of 1 GB per second likely becoming the standard. Compared to the current 4G system, the new network should reach speeds twenty times faster. And it will operate across a much wider band of frequencies for much greater room to grow.
You might be thinking your cell phone connection is just fine, so an upgraded network might not sound like a big deal. But that's missing the bigger picture…
Why 5G Technology Is a Game Changer
Imagine having a Wi-Fi connection everywhere you go, where you can instantly stream video or download files without having to find a network to connect to. That's great, but then imagine what having a network like that could do for innovation.
The new 5G will help power the Internet of Things (IoT) and radical new technology like driverless cars.
Brace Yourself: The 5G Revolution Is Unleashing Your Next TRILLION-DOLLAR Opportunity
IoT is the new range of connected appliances and tools, from the Ring doorbell to nanny cams to medical devices to oil rigs, all sharing data – and commands – remotely from the convenience of a smartphone or tablet. Global research firm Gartner says there will be over 26 billion connected devices by 2020.
Just to be clear, that's next year! And some even estimate there will be 100 billion devices. But the biggest obstacle for these devices is network connectedness. 5G solves that instantly.
It will be a goldmine for companies – and investors – properly positioned to take advantage of the coming changes.
Despite "Gs" being the backbone for cellular communications for years, the new 5G will present a whole new landscape. Think of it as a brand-new world where some companies will lead, others will follow, and the rest may get run over. That is why it is critical to gain an understanding of just what is going on – and the best way to invest in it.
Are cell towers the best play? Data center providers? Equipment makers? Software?
What about makers of the devices that benefit the most from being on a 5G network in the first place? Self-driving cars needing instant feedback loops to drive safely? Power grid infrastructure that processes tons of data to keep the lights on in any condition? Automated vending locations, including Amazon Go stores, that process transactions, order inventory, and monitor the physical store?
As you can see, the possibilities are endless. Fortunately, Money Morning experts have already done the homework and found the best ways to profit from 5G.
Get Ready for 5G NOW (Huge 10-Fold Opportunity!)