Stocks are off to a hot start this year, with the S&P 500 racing to an 11% gain since the year began. But between Brexit, an inverted yield curve, and the Mueller report, there are many reasons to feel uncertain about the direction stocks could head next.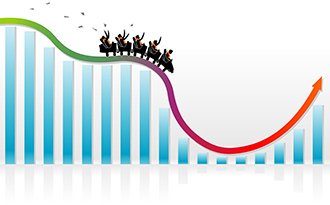 Thankfully, you don't need a crystal ball to find out. We've got the one number to watch that will tell you where stocks are going over the next several weeks or more.
All you have to know is what Money Morning Quantitative Specialist Chris Johnson has been saying all along: Small-cap stocks are a bellwether for the broader stock market.
That's why it's significant that the Russell 2000 moved below its 50-day moving average.
As of last week, Chris was looking for the small caps in the Russell 2000 to "take some leadership" - a move that up to that point hadn't happened.
With this latest move downward, the situation is looking more precarious.
The Russell 2000 did creep back up late on Monday and into Tuesday, but that doesn't mean we're out of the woods yet.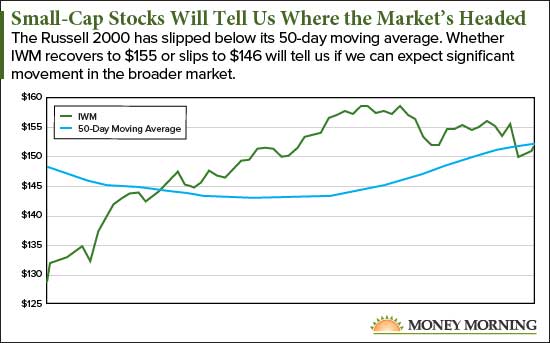 The iShares Russell 2000 ETF (NYSEARCA: IWM) now sits around $152, down from $158 a month ago. If we're going to see a strong market rebound over the next month or so, expect to see IWM to get back up at least in the $155 range.
Earlier this week, the ETF dipped down to $150 before rebounding slightly. That's key. If it falls below that milestone, that could easily send small caps - and the rest of the stock market - slipping further downward.
If IWM falls even further - below about $146 - that's likely to indicate a significant downward correction for stocks across the board.
This Could Be the Most Profitable Dollar You Ever Spend: Tom Gentile's Cash Course covers all the essential trading ideas you need to know to potentially make thousands in extra income every week. Get access for $1...
That means you can forget about the news. Forget about what's going on in Washington. Forget about what's going on with The Boeing Co. (NYSE: BA). Forget about China and trade wars and Fed meetings and Brexit.
That number - IWM at $146 - is the one number you want to look for to indicate that it's time to go into protection mode with your portfolio.
Of course, that gets us to the most important question: what to do when stocks are about to tank.
How to Protect Yourself and Profit in a Down Market
Join the conversation. Click here to jump to comments…
About the Author
Stephen Mack has been writing about economics and finance since 2011. He contributed material for the best-selling books Aftershock and The Aftershock Investor. He lives in Baltimore, Maryland.