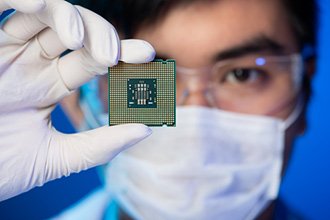 Semiconductor stocks can be volatile. But with patience, you can easily double or even triple your money if you know which companies to buy.
Ongoing concerns about global trade, slowing economic growth, and even concerns about espionage from China have weighed on the semiconductor sector over the last year.
History has shown that each pullback precedes another round of mergers and acquisitions or solid rebounds due to ever-growing demand from consumers, businesses, and governments.
5G Revolution: This breakthrough technology is expected to unleash $12 TRILLION in new wealth... and one $6 stock could be better positioned than any other to skyrocket. Learn more.
Sign up for SMS so you never miss special events, exclusive offers, and weekly bonus trades.
But with dozens of publicly traded semiconductor stocks available to investors - ranging from large-cap giants like Intel Corp. (NASDAQ: INTC) to micro-cap vendors like Kopin Corp. (NASDAQ: KOPN) - it is difficult to know which ones are poised to break out.
To find the top semiconductor stocks to buy, investors should use the Money Morning Stock VQScore™.
This proprietary rating system monitors the world's most profitable companies and assigns each one a score based on the likelihood that they will break out. Any score higher than a 4 means the stock is a "Strong Buy."
Today, we found three semiconductor stocks that are poised for big gains in 2019 and beyond...
Best Semiconductor Stocks to Buy, No. 3