The best penny stocks to buy this week can add triple-digit profit potential to your portfolio.
Penny stocks offer the potential to take a small amount of money - we're talking a few dollars a share at most - and double or triple it (or more) in a matter of days.
Many investors interested in penny stocks think they're only found on the Pink Sheets or small over-the-counter exchanges. But the top penny stocks trade on the New York Stock Exchange or the Nasdaq for less than $5 per share.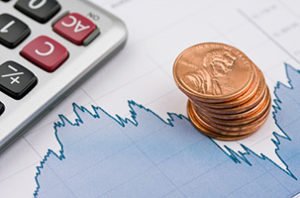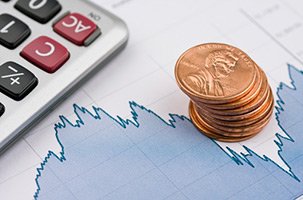 And by looking for them on the major exchanges, you're weeding out scams and shell companies that can't handle the disclosure requirements. That's good for you and helps limit your risk.
But you don't want to buy just any penny stock on a major exchange. You want to buy only stocks with breakout potential.
Fortunately, our proprietary Money Morning Stock VQScore™ helps us find penny stocks with the potential to surge higher.
The VQScore takes the most profitable 1,500 companies and ranks them on potential growth. Then simply screen for penny stocks - those selling for less than $5 per share.
Now, investors should bear in mind that penny stocks can be volatile. They're a risky asset class. Never place more than 2% of your portfolio in penny stocks.
Here are the best penny stocks to buy this week...
The Best Penny Stocks to Buy This Week, No. 3
Our first top penny stock to buy today is Brazil-based Ambev SA (NYSE: ABEV), a beer company that is dominant in South America. It's the world's third-biggest brewer.
ABEV has operations in 14 countries. Its best-known brands include Bohemia, Stella Artois, and Skol, and it also produces soft drink lines, juices, teas, and other carbonated beverages.
5G Revolution: This breakthrough technology is expected to unleash $12 TRILLION in new wealth... and one $6 stock could be better positioned than any other to skyrocket. Learn more.
In the past five years, the stock has been choppy because of consistent economic challenges in Brazil and Argentina. In 2018, for example, sales volume fell year over year, primarily because of weak economic growth and climbing inflation.
For 2019, ABEV provided very conservative financial guidance. As a result, Wall Street focused on other brewers.
But there is a reason for rising optimism about ABEV.
Currently, the shares sell at $4.36. The company provides a much higher dividend than most of its competitors. The yield is currently 5.5%. A robust dividend like that is very rare for a penny stock.
Plus, the Brazilian political landscape is changing, and the inflation pace is slowing in Argentina. Both factors mean that ABEV could surprise the markets. Argentina's central bank also recently moved to tighten fiscal policy in order to rein in steep consumer price increases, so a turnaround could happen in the near term.
And the most impressive part is that ABEV's VQScore is a perfect 4.75, putting the stock squarely in the "Buy Zone."
More economic and political stability could lead to greater revenue and higher profits. The stock could reach $6 per share, which is a 38% gain from current levels.
The Best Penny Stocks to Buy This Week, No. 2
Plano, Texas--based Denbury Resources Inc. (NYSE: DNR) is next on our list of the top penny stocks to buy. It's engaged in oil and gas exploration and production across the Gulf Coast and Rocky Mountain areas. It controls a staggering 260 million barrels of oil and natural gas reserves (97% of it is oil).
That means rising oil prices will be fueling this company's stock higher.
During its fourth quarter report, DNR said it had a free cash flow of over $80 million and sharply curtailed its net debt by $280 million. It reduced general and administrative expenses 30% year over year, by $30 million. That's an excellent sign management is priming this company for success.
DNR estimates that it will generate free cash flow of $50 million to $100 million if oil prices average $50 per barrel. But if oil prices rise to $60 per barrel, free cash flow could be as much as $170 million.
But oil prices might soar even higher than that. Crude oil prices are projected to reach highs for the year in the third quarter, due to large OPEC cuts, no Venezuelan imports, Iran sanctions, and U.S. logistics challenges.
If further problems arise geopolitically, supply is disrupted significantly, or there is rising worry about U.S. deals on trade or worldwide economic health, oil prices could climb even more than consensus forecasts indicate they will. Ultimately, DNR's free cash flow could be as much as $200 million, which would help the company drastically reduce debt.
It could also send the stock price soaring.
DNR currently sells at $2.44 per share. The stock could rise to $5 by year-end 2019, however, if there is a significant oil price increase, more robust cash flow, and lower debt. That would be a more than 101% gain from today's prices.
But our top penny stock to buy could crush those gains...
The Best Penny Stocks to Buy This Week, No. 1
[mmpazkzone name="in-story" network="9794" site="307044" id="137008" type="4"]
Our second top penny stock is a Canadian company, Turquoise Hill Resources Ltd. (NYSE: TRQ).
It is one of the country's biggest mineral development and exploration firms.
TRQ is one of the largest and most profitable mining companies in North America. It also has a long history of developing large mines in the Pacific Rim.
It has a very strong balance sheet, making it one of the best mining companies to buy. Plus, it beat earnings projections in the last year by a massive 225%. But even better news lies in the future. Copper prices are rising, which will be a major new catalyst for TRQ.
Currently, the shares trade at $1.58 and have a perfect 4.75 VQScore, which indicate a breakout in the offing.
Climbing copper prices and a cleaner balance sheet could move the shares closer to $3.75 in a year, a potential gain of 137%.
5G Is Coming: The Breakthrough of the Century Could Rest on This $6 Stock
CNBC reports that this opportunity is worth $12.3 trillion... and it's gearing up to make an appearance all over America.
In fact, some of these devices are showing up right in your neighborhood - and I'm willing to bet you didn't even notice.
Our Silicon Valley insider mapped out all the details in this report.