For a stock that was circling the drain last year, General Electric Co. (NYSE: GE) sure had a nice comeback in early 2019. It gained nearly 72% from its December lows to its February highs. Not too shabby for a company that was selling off pieces of itself just to keep the lights on.
It was no wonder investors were licking their chops to buy the resurrection of what was once the bluest of the blue-chip stocks.
However, Money Morning Quantitative Specialist Chris Johnson thinks the party is over. Wall Street has gotten ahead of itself in its optimism about the company, and that's creating an earnings season options play for you.
It is easy to see Chris is right, because the stock's most recent performance looks like the wheels fell off. Shares are down 19% through Tuesday's close, and the technical condition on the charts is quite ugly.
[REVEALED] Earnings Season Secret: This proprietary screener reveals how you can cash in on ANY company's earnings - good or bad - over and over again. See how it works right here.
What's worse for GE hopefuls is that the broad market looks pretty good. It is still in rally mode since the December bottom, and several sectors, including big tech, are showing good leadership. Even small stocks show more moxie as the Russell 2000 continues to claw its way higher. That means the strong stock market is not bailing out what is once again a weak General Electric.
Just take a look at the GE stock chart. You can see how the stock recovered from the December lows and then began getting squeezed by the 50-day and 200-day moving averages. The stock responded by breaking out to the downside.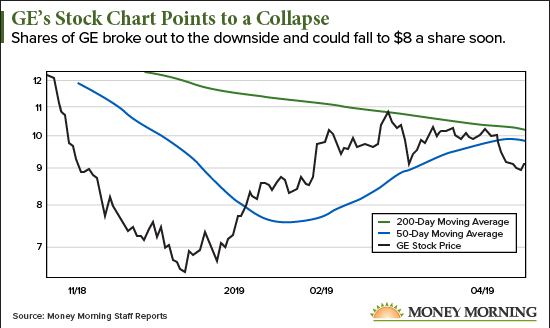 That's a bearish sign as it is. But Chris thinks the April 30th earnings report could be the final straw as the company tries to "get all the bad news out there."
He sees the $9 level as the tipping point for GE shares. If that does not hold, the next stop could be $8 per share, and that would be an additional loss of 11%. And a weak earnings can only serve as a catalyst to accelerate this nosedive.
Fortunately, you can turn GE's collapse into a 218% windfall. Or even more. Just look at this 220% winner we uncovered two weeks ago.
Here's how to set up the trade for maximum gains...
Making Some Real Money with GE