Over the last year, pot stocks have become one of the hottest profit machines on Wall Street.
Aurora Cannabis Inc. (NYSE: ACB) is up nearly 50% over the last year.
Canopy Growth Corp. (NYSE: CGC) jumped 121%.
And Tilray Inc. (NASDAQ: TLRY) surged to a 130% gain.
We shouldn't be surprised - increased legalization is paving the way for the marijuana industry to create billions of dollars in profits on a regular basis.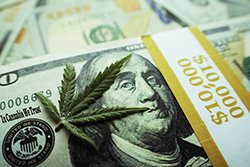 These kinds of returns have hundreds of companies racing to corner the market and become the king of the marijuana industry.
And that's great for investors. The surge of new and excellent companies jumping into the market means there are huge profits for the taking. Tilray's 130% gain over the last year is just the tip of the iceberg of what's possible.
At the same time, the sheer number of companies can be overwhelming for investors. Now, we've already developed tools to help our readers separate the companies with life-changing potential from the wannabes. You can read all about it right here.
But maybe you just want to add a pot stock to your retirement portfolio and aren't sure which one will still be dominating five, 10, or 20 years down the road.
We've got you covered.
Money Morning Director of Cannabis Investing Research Greg Miller found a "blue-chip pot stock" that's likely to become the Anheuser Busch (NYSE: BUD) of the marijuana industry. If you're looking for just one pot stock to add to your retirement portfolio, then this is it.
According to Greg, this stock is one of the industry's three largest firms, and it's "only going to get bigger and richer."
In fact, Greg believes "if there's only one cannabis company you own all the way through your retirement, THIS is it."
Today, we're taking a close look at Greg's pick and the trends that could bring lifelong profits for those who buy in now...
Legalization Is Paving the Way for Life-Changing Profits
Widespread legalization is creating historic profit opportunities for the marijuana industry, and the biggest catalyst is yet to come.
In October, the Canadian government legalized recreational marijuana, opening the floodgates to billions of dollars in marijuana investments.
STAKE YOUR CLAIM: Three pot stocks in particular could be poised for rare, wild gains of up to 1,000%. Click here to learn how you could see a $2 million "pot payday"...
This was the latest development in a wave of legalization efforts over the last several years that are breaking through decades of stringent cannabis laws.
For example, in 2014, New York and Minnesota legalized medical marijuana, while Maryland decriminalized cannabis possession.
And in November 2016, population centers like California and Massachusetts followed suit, fully legalizing recreational marijuana.
At this point, 10 states have fully legalized marijuana. And some of the largest (and most profitable) markets are likely to follow suit later this year.
Earlier this month, New York Governor Andrew Cuomo vowed that New York State will pass a law to legalize recreational marijuana by June 2019.
In comments to a local radio station, Cuomo stated that his administration will "get marijuana done - it's not a question of political desire; it's a question of practical reality."
New Jersey's governor, Phil Murphy, has also pledged to push through a legalization bill in his state by the end of the year.
However, this is small change compared to the movement on Capitol Hill.
In February, New Jersey Senator Cory Booker introduced the Marijuana Justice Act - a bill designed to fully legalize marijuana at the national level.
The bill has the backing of six other senators and is likely to direct the national conversation toward the full legalization of recreational marijuana.
In addition, all six senators backing the bill are running for president in 2020, making the issue an even more urgent idea.
With legalization sweeping across North America, it's clear that the budding cannabis industry is here to stay.
That's great news for pot stock investors. Last year, legal marijuana sales in North America hit $10 billion. By 2021, the industry is expected to reach $24.5 billion.
That's an incredible growth of over 145% in just four years.
And it's only going to get bigger. That's why it's so important to identify the right pot stock to buy before profits enter the stratosphere.
Luckily, Greg's pick is positioned to lock in profits no matter how long it takes the marijuana industry to hit its full potential.
It's an international conglomerate that's made early inroads into the nation's bourgeoning marijuana industry.
It also has a perfect score on the Money Morning Stock VQScore™.
It's the perfect cannabis stock to retire on...
The One Cannabis Stock to Add to Your Retirement Portfolio