Most investors won't notice that the best blue-chip stocks to buy now are a bargain. After all, blue-chip stocks have a reputation for being pricey.
Though the S&P 500 is up over 14% so far in 2019, investors right now are concerned about a potential recession on the horizon. The yield curve recently inverted, which is a strong signal of downturn. So they might consider taking the profits of the past decade rather than looking for the best blue-chip stocks today.
Of course, the fact that stocks are climbing may make investors doubt there are any bargains left. But that means it's your chance to get ahead.
Our proprietary Money Morning Stock VQScore™ system can find profit patterns and rate the best stocks to buy in any market conditions.
That's because your only concern is buying a well-managed, profitable company at a reasonable price. The stock will usually rise in line with profits over time.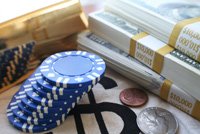 It's a reasonable stock price versus company earnings that is the crucial element, not the daily action of the market.
The best blue-chip stocks to buy now are priced very reasonably. And blue chips typically carry less risk than others.
That's because the profits of many blue chips have continued to rise. Solid, consistent growth over time is one of the characteristics that makes them blue chips.
The VQScore system has now found blue-chip stocks with breakout potential. Some of them earned the highest VQScore possible, making them the best blue-chip stocks to buy now.
This first one has a perfect VQScore of 4.75, meaning its price could break out at any moment...
Top Blue-Chip Stocks to Buy Now, No. 3: IBM
Our first blue-chip stock to buy now is International Business Machines Corp. (NYSE: IBM). IBM is one of the larger blue chips. Its market cap alone, $124.7 billion, is enough to crash competitors and keep profits steady.
Its portfolio is huge, delivering hardware, infrastructure, software, and platform services to businesses around the world.
Urgent: Renowned Author of Best-Selling Investment "Bible" Just Released His Newest Pick
They're currently raking in money, with revenue estimates over $77 billion per year for 2019 and 2020. This is also evidenced by a terrific 4.39% dividend. That's more than banks will pay you for a savings account.
Wall Street analysts forecasted earnings per share of a staggering $14, this year and next.
The company has tremendous potential going forward, especially with a growing trend toward AI-driven business intelligence solutions. Some analysts predict 75% of AI-driven business solutions will be commercial by 2022, while until recently, the overwhelming majority have not.
This will boost IBM sales drastically. For this, they are a winner, especially at the current low price of $143.78.
The IBM stock has a price/earnings (P/E) ratio of 14.82. That's much lower than the average of any segment of the software or information technology industry right now, the lowest being around 55. This confirms the stock has serious upside potential.
It also has a perfect VQScore of 3.75, which means you can expect a breakout.
But our next pick is also due for a price jump, and it offers an even higher dividend yield at 6%...
Top Blue-Chip Stocks to Buy Now, No. 2: Johnson & Johnson
New Jersey--based Johnson & Johnson (NYSE: JNJ) sells at a low P/E, and it's in one of the highest-growth sectors around.
A boom in innovation and unshakeable demand make healthcare both a good defensive investment and a big profit opportunity. It's one of the top sectors for 2019.
Johnson & Johnson sells medical devices and pharmaceutical and consumer-packaged goods. Its profits have averaged over $15 million over the last three years. The company is home to household brands like Band-Aid, Listerine, and Tylenol - items almost everyone has and needs on a constant basis - so it's widely considered one of the best stocks to buy and hold.
JNJ stock is poised to benefit from several trends within the healthcare sector, including the aging of the population and a wealth of new drugs in the pipeline to fight multiple diseases.
Plus, the pending merger of Bristol Myers and Celgene is good news for Johnson & Johnson, adding value to its drug pipeline, which is already one of the best in the world. Its successful, diverse portfolio seems unbeatable.
The stock has a high VQScore of 3.75. And JNJ's dividend yield is a healthy 2.6%.
Johnson & Johnson, at its current price of $135.21, sells for just 26 times 2018 earnings, in an industry averaging 91, making it a bargain blue-chip to buy now.
Our best stock could add up to 40% in a matter of months. But its breakout potential is likely even greater thanks to global catalysts. There's a reason this next one has a perfect VQScore.
Top Blue-Chip Stocks to Buy Now, No. 1
[mmpazkzone name="in-story" network="9794" site="307044" id="137008" type="4"]
The upward trajectory of oil prices is good news for our best blue-chip stock today, Royal Dutch Shell Plc. (NYSE: RDS.A). It's a fully integrated oil and gas company.
While analysts expect flat profits in 2019, they also forecast 20% growth in profits next year.
Plus, world powers cracking down on Iranian oil sanctions will boost RDS profits even higher.
Revenue went up 66% from $233.6 million in 2016 to $388.4 million in 2018, but this doesn't compare to the growth potential over the next couple of years, with geopolitics and other factors moving oil prices higher.
RDS currently sells at $64.92, roughly 12 times estimated profits for 2019. That's a P/E ratio of 11.61 in an industry where the average is 32.47. That means once Shell stock pops, it could double on its way to catching up to the wider industry.
And with a 4.75 VQScore, that's very likely.
The Ultimate Way to Potentially Secure Big, Consistent Gains in Today's Market
This man's track record of over 217 double- and triple-digit winners in just five years proves that by using this simple investing method, you're likely to see huge upside potential - even in today's shaky market environment. That's because this methodology gives him a chance to find only well-positioned stocks that are poised to go up everywhere - at any time. Learn how to use this method for yourself now.