I made a big call at the very end of 2018.
I did it because the results I was seeing in my proprietary "NICIlytics" cannabis stock analysis were crystal clear: A monster investing trend was beginning to get underway...
So I felt perfectly comfortable predicting "2019 will be the Year of CBD."
In January, CBD was a small niche, a little-known supplement sold only through websites, a handful of health- and wellness-oriented stores, and special pilot programs.
Barely five months into the year, and we're seeing CBD-infused products sold nationwide. Online, of course, but also in shoe stores, malls, and major drug store chains.
Although the CBD boom is still in its very early stages, I still manage to be (pleasantly) surprised by how widely it's spread in such a short time.
In one case, it literally snuck up on me - though I was happy to see it.
Let me show you a quick picture I snapped at the grocery store the other day. In just this one cell phone snap, I captured some potent CBD stocks...
[mmpazkzone name="in-story" network="9794" site="307044" id="137008" type="4"]
Here's Why It Seems Like CBD Is Just Around Every Corner in America
There's a MOM's Organic Market not far from where I live. I was doing some shopping when I saw this shelf display.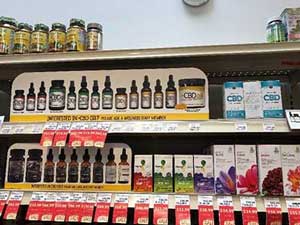 In it, we've got products from Charlotte's Web Holdings Inc. (CSE: CWEB, OTC; CWBHF), CV Sciences Inc. (OTC: CVSI), Emerald Health Therapeutics Inc. (TSXV: EMH, OTC: EMHTF), and two others.
Just those three publicly traded companies represent more than $2.9 billion (and counting) in market capitalization.
THREE STOCKS: Any one of these cannabis companies could potentially deliver a 1,000% windfall. Click here to learn more...
And just recently, GNC Holdings Inc. (NYSE: GNC) GNC became another national chain adding CBD-infused topical creams to its shelves.
(That's why the National Institute for Cannabis Investors set up a "Health and Wellness" subsector in our NICILytics database to help you identify the best CBD picks. You can learn how to access it here, but please don't share what you see.)
Up to this point, though, major retailers had only stocked CBD creams, balms, and salves that go on the skin.
These retailers haven't stocked consumable CBD products yet, mostly because the United States Food and Drug Administration (FDA) hasn't set clear rules about infusing foods and drinks with CBD.
To be clear, that's not because they've concluded CBD should be regulated like a drug; it's simply because they haven't had time to write the final rules yet.
Be that as it may, this one recent addition to the CBD sales juggernaut means I've got another prediction for you...
An Old Player Moves Boldly into the CBD Sector
Forty-two-year-old Vitamin Shoppe Inc. (NYSE: VSI) is one of the leading retailers of health and wellness products in the United States.
It's adding CBD to the shelves of its stores in 14 states.
And we're not just talking creams, balms, and salves here - the stores are going to be selling a line of consumable CBD supplements.
So, in addition to all the health and wellness boutiques selling CBD drops and capsules, one of the largest nutritional supplement purveyors in the country will stock its shelves with soft gels and, soon, liquid drops.
With this decision, this national retailer is flying in the face of FDA guidance. But it's not doing so to spark controversy. Vitamin Shoppe isn't looking to make a political statement or simply get some media attention.
It's just that Vitamin Shoppe knows what I know...
The FDA Is Going to Move on Consumable CBD
Within months, the FDA will permit CBD to be added to food, beverage, and oral supplements without having to be approved as a drug. And when it does, investors in the right CBD stocks will cash in big time.
But with all the demands it receives from customers to offer CBD products, Vitamin Shoppe isn't willing to lose out on sales while it waits for the FDA to make it legal.
STAKE YOUR CLAIM: Three pot stocks in particular could be poised for rare, wild gains of up to 1,000%. Click here to learn how you could see a $2 million "pot payday"...
However, Vitamin Shoppe's move isn't the only reason backing this prediction.
Based on recommendations made by the United Nations' World Health Organization (WHO), CBD is about to get the green light throughout the free world. I fully expect the United Nations to act on that recommendation by the end of 2019 - the "Year of CBD."
When it does, CBD from any source will no longer be scheduled under any international drug control conventions.
So, knowing full well that the U.N. will make this move, the FDA isn't about to write rules that will in short order be contradicted by the U.N. - especially one witnessing such strong growth in consumer demand.
Now, to be sure, the FDA will not allow CBD supplements to be sold with unsubstantiated health claims. To market a product as a treatment for specific conditions, the FDA will exercise its authority to regulate those products as a drug and subject them to the same processes as all other drugs, including clinical trials.
But for general health and wellness uses, the FDA won't get in the way.
By the end of summer, the FDA will have written rules clarifying its position. This will give large retailers across the U.S. the green light to sell CBD-infused products.
So, don't be shocked when you see big CBD displays at the grocery store and elsewhere.
But whatever you do, don't suffer the shock of missing out on the massive profits headed our way as the race to dominate the market shifts into high gear.
America's Green Gold Rush Is Just Getting Started - Claim Your Stake Now
At this very moment, big investment firms and members of the Fortune 500 are building enormous war chests.
They're preparing to push billions upon billions of dollars into the cannabis market - and they could strike at any moment. So right here - right now - you have a once-in-a-lifetime opportunity to beat them to the punch and stake your claim.
Follow Money Morning on Facebook and Twitter.
About the Author
Greg Miller started working on Wall Street in September, 1987, just a month before the "Black Monday" stock market crash.
During his career there, he became an expert in just about every kind of publicly traded security - from blue-chip and small-cap stocks to municipals, junk bonds, and derivatives. As a portfolio manager, Greg was responsible for over $500 million of assets in mutual funds and insurance company accounts.
After leaving the Street, he designed a successful options trading strategy and made lucrative tech investments for a financial publication. He has also helped develop new products and worked with other editors to hone their strategies.  He's always been dedicated to deep, fundamental research - and he always will be - because he believes buying the very best companies at the right price is the best way to amass wealth in the stock market.