Airbnb has a lot of hype behind it with the coming IPO, but Airbnb stock is not a good investment for retail investors.
As many people know, Airbnb is a platform that connects travelers with lodging offered in private homes, apartments, and more all around the globe. Beyond that, it has 4 million unique rental listings for customers to enjoy.
The service itself is wildly popular. And just last year, its listings in China soared 90%. London and Mexico City listings also skyrocketed 70% and 79%, respectively.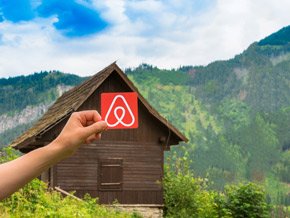 Plus, Airbnb is also profitable. This is a huge differentiation between it and the other big tech "unicorn" IPOs of 2019 like Lyft Inc. (NASDAQ: LYFT) or Uber. In Airbnb's Q3 2018, Techcrunch says the company's revenue was more than $1 billion.
But there's more to Airbnb...
What You Need to Know About Airbnb
Airbnb was founded in 2007 by two roommates that decided to rent out their living room in their San Francisco apartment - providing an air mattress and breakfast.
The idea blew up immediately, and within a year, the two roommates started Airbed & Breakfast - which was later condensed to Airbnb. And those two roommates are now the CEO and CPO of a billion-dollar company.
Right now, Airbnb is still a private company that has not reported its financials. But in 2015, its revenue skyrocketed 113%. By 2017, its revenue was $2.6 billion, with $100 million in profit.
Once 2021 rolls around, Wall Street estimates that the company's revenue will hit $8.5 billion. That's a 123% jump from 2018's $3.8 billion.
5G Is Coming: The tech breakthrough of the century could rest on this $6 stock - get all the details here.
These numbers are even more promising when you compare it to the most recent startup "unicorn," Pinterest Inc. (NYSE: PINS). Pinterest's 2018 revenue was $756 million, but it operated at a $63 million loss last year.
And while Airbnb is certainly making money, there are a few key red flags to watch out for with its coming IPO.
Airbnb Stock Faces Some Challenges Ahead
One of Airbnb's biggest challenges will be the ever-growing regulation and negative perception the business has among local communities.
Cities like Los Angeles, San Francisco, Las Vegas, and New York City have begun to regulate the use of private homes for travelers. This is because politicians, activists, and even studies point to Airbnb as a big contributor to the rising costs of rent.
But the regulations are also a result of hotels paying tourism taxes, while Airbnb has avoided them up until recently.
Airbnb faces these problems all across the world as cities like Paris, Berlin, and Barcelona began to regulate the company and its home-sharers. Because of this, there is uncertainty and risk in Airbnb's business that could eventually impact its profits and stock value down the line.
However, the company is also facing some pretty fierce competition as well.
Competition in the Hotel Industry
Airbnb is up against other booking services like Expedia Group Inc.'s (NASDAQ: EXPE) HomeAway, VRBO, Booking Holdings Inc. (NASDAQ: BKNG), Trivago NV (NASDAQ: TRVG), and Tripping.
Beyond that, even one of the most profitable hotel chains in the world, Marriott International Inc. (NASDAQ: MAR) has started to offer home-sharing services. And companies like this have a huge upper hand with both experience and making sure facilities are in line with local regulations.
But that's not even the biggest reason why retail investors should not invest in the Airbnb IPO...
The Airbnb IPO Is Risky for Retail Investors
Airbnb certainly shows promise, but IPOs are generally pretty risky for retail investors. This is because the first six to 18 months are very volatile for companies after they go public.
Beyond that, because institutional investors, pension funds, and banks will have early access to Airbnb stock, retail investors will likely pay an inflated price above what the stock is actually valued at.
This is because they often bid the price up to an unsustainable level for short-term profits. And Lyft is a prime example of this. When the company went public, the big investors paid $72 after being valued at $62 to $68.
Once Lyft was available for retail investors, the share prices had been jacked up to $88 per share. So, for any retail investors that purchased shares at $88, they're now looking at a 31% loss as they now trade for $60.76.
But that's not something unique to Lyft. This tends to be the case with plenty of hot tech IPOs.
So, Money Morning cannot recommend investing in the Airbnb stock at the IPO.
Fortunately, we have a way for investors to get in on the hot tech IPOs without all of the volatility. In fact, Money Morning Defense and Tech Specialist Michael A. Robinson forecasts double- or triple-digit profits with these investments.
And one of them is expected to see a 68% increase in share price over the course of the year...
The Best Four Investments to Get In on Airbnb Stock Without the Volatility