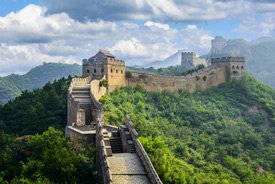 U.S. President Donald Trump tweets, and all hell breaks loose in the markets.
Over the weekend, with hopes of a final deal with China on trade due by Friday, President Trump stirred the pot.
This time around, he's threatening increased tariffs, believing China has backtracked on certain items in the forthcoming agreement. His threats have already caused the Dow Jones to dip just over 2% from last Friday's close.
Chinese stocks have been hit especially hard. Since Friday's close, the SPDR S&P China ETF is off nearly 6%.
But there's way more to the story than just raising tariffs.
The "Trump economy" is firing on all cylinders, as evidenced by the most recent jobs report.
With that booming economy, the stock market has shaken off a late 2018 sell-off and has eclipsed previous highs.
It's a no-brainer for Trump to push his advantage with China with these current market conditions.
Learn How to Trade Like the Pros: Tom Gentile just recorded all of his most potentially lucrative trading secrets in America's No. 1 Pattern Trader Cash Course. This could set you up for life - and it'll only cost you $1...
Sure, the knee-jerk reaction to Trump's weekend tweeting was to sell stocks.
On Monday, the market opened lower, but then recovered nearly all losses.
Tuesday was a different story.
Trump upped the rhetoric. This time market losses accelerated throughout the trading day.
It's all noise.
China needs this deal more than Trump does.
That's all you need to know.
Certainly, there are risks that things escalate before a final deal is consummated, but there is no way we don't get some kind of deal.
Trump is using the currency of the market to reach more favorable terms. He will never push that advantage to the point of not getting a deal.
Thus, any selling from here should be viewed as a buying opportunity.
Looking more closely at the fundamentals, we see that there are Chinese stocks that will soar from here. And any dips we've seen simply mean we can buy in at better prices.
The Money Morning Stock VQScore™ has identified three such stocks that can be bought for the ultimate contrarian profit play.
Here are the three best Chinese stocks to buy on the dip...
Best Chinese Stocks to Buy on the Dip, No. 3