U.S. President Donald Trump suddenly threatened to hike tariffs on Chinese goods this week, sending stocks into a tailspin. But while investors are reeling, we've uncovered a way to turn the sudden sell-off into 260% gains.
You see, while the trade war with China ignited the sell-off, the downturn in stocks was entirely predictable.
After 18 weeks of nearly straight-line rallying, the S&P 500 finally ran into a ceiling. With slowing momentum selling at the previous all-time high set last October, it seemed like a natural place to expect some problems.
The president's tweet about new tariffs on China might've sparked the reversal, but this dip was a long time coming. In fact, the market peaked last week, days before the news broke that China might step away from the bargaining table. Was this really a surprise?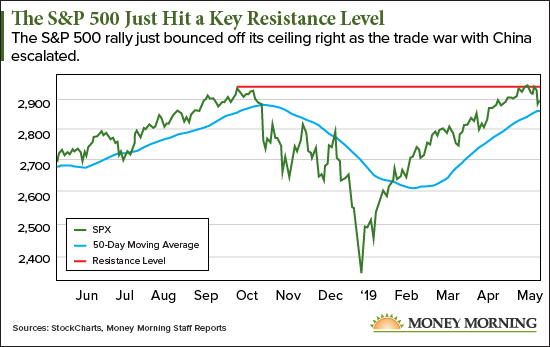 Investors should take this as good news.
There is still nothing inherently bad on the horizon that will send the economy into recession. In fact, with increased job growth, wage growth for the lowest-paid workers, and record-low unemployment, it is hard to make the case for anything but continued prosperity.
But that is not to say that the stock market cannot get ahead of itself. This has been a pretty powerful rally, and excesses naturally build up. The trouble with China is merely trimming the fat.
And that makes this a perfect time to expect a shake-out. Stocks that got pulled along with the market are likely to find their day of reckoning when investors realize they are not quite that strong.
$1 Cash Course: Tom Gentile is offering a rare opportunity to learn how to amass a constant stream of extra cash – year after year. And he's going to teach you how to do it entirely on your own. Learn more…
Money Morning Quantitative Specialist Chris Johnson believes that transportation stocks are a ripe candidate to fall. These are like canaries in the coal mine in that they seem to stumble on only a hint of economic decline. A trade war with China, unlikely as it may be, is providing that hint. Trucking companies in particular are vulnerable.
Make no mistake, Chris believes the market is undergoing a needed cleanse and will eventually get back in rally mode. But why not make some money as the imposters are exposed?
Chris's technical analysis revealed one trucker that is already showing its weakened condition.
And this options play could turn its fall into 260% profits for you…
How to Make Money on Bad Stocks