The Dow Jones today will continue its positive streak, thanks to optimism on trade with Mexico and strong gains in Asian markets. Details further down.
Plus: What will be the "fork in the road" at the Tesla Inc. (NASDAQ: TSLA) annual shareholder meeting?
Here are the numbers from Monday for the Dow, S&P 500, and Nasdaq:
| | | | |
| --- | --- | --- | --- |
| Index | Previous Close | Point Change | Percentage Change |
| Dow Jones | 26,062.68 | +78.74 | +0.30 |
| S&P 500 | 2,886.73 | +13.39 | +0.47 |
| Nasdaq | 7,823.17 | +81.07 | +1.05 |
Now, here's a closer look at today's Money Morning insight, the most important market events, and stocks to watch.
The Top Stock Market Stories for Tuesday
Once again, markets are pushing higher after U.S. President Donald Trump canceled tariffs against Mexico over the weekend. Trump said Sunday that he has "full confidence" Mexico will combat the ongoing migration surge from Central America. President Trump also tweeted over the weekend that Mexico plans to purchase "large quantities" of agricultural products from U.S. farmers.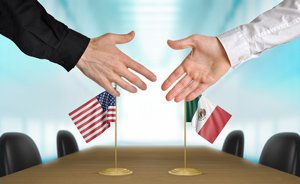 The markets are still paying close attention to updates on the trade drama between the United States and China. President Trump told CNBC that he expects China to take a deal with the White House "because they're going to have to." Trump said that he will impose new levies on China if President Xi Jinping skips the G20 meeting later this month. Trump has threatened tariffs on another $300 billion in Chinese goods if the world's two largest economies fail to reach an agreement. In related news, the White House is considering a plan that would delay restrictions against Chinese telecom giant Huawei.
Oil prices ticked slightly higher, thanks to news that OPEC will continue making cuts to production. However, crude prices are off roughly 20% since hitting 2019 highs in April. Ongoing concerns about the global economy have outstripped any optimism about falling supply. OPEC plans to meet later this month or in early July to discuss plans to control crude oil output for the balance of the year. That decision comes as U.S. oil production is back on pace to hit record output.
Stocks to Watch Today: PLAY, CRM, DATA, APO, SFLY, TSLA
Renowned Author of Best-Selling Investment "Bible" Just Released His Newest Pick
While researching his best-selling book, "Contrarian Investing," this man uncovered a method that is surprisingly easy - and less risky than traditional methods of making money in the markets. You can grow incredibly wealthy using this secret method - even when markets are going down. In fact, he made his first huge gain using this method when the markets were completely crashing. See it for yourself...