Expect the Dow Jones Industrial Average to take a loss today, correcting for a six-day market rally on U.S.-Mexico trade news. But U.S. relations with China still hang in the balance...
More moving the Dow today: Tesla Inc. (NASDAQ: TSLA) saw a jump. But can it really bounce back? Details below.
Here are the numbers from Tuesday for the Dow, S&P 500, and Nasdaq:
| | | | |
| --- | --- | --- | --- |
| Index | Previous Close | Point Change | Percentage Change |
| Dow Jones | 26,048.51 | -14.17 | -0.05 |
| S&P 500 | 2,885.72 | -1.01 | -0.03 |
| Nasdaq | 7,822.57 | -0.60 | -0.01 |
Now, here's a closer look at today's Money Morning insight, the most important market events, and stocks to watch.
The Top Stock Market Stories for Wednesday
According to a recent survey from Duke University, corporate leaders are increasingly concerned about a recession hitting the United States. A survey of CFOs showed that 48.1% of respondents expect the U.S. economy to fall into a recession by next year, just in time for the 2020 election cycle. CFOs are anticipating a pullback due to ongoing geopolitical and economic uncertainty - including trade wars and uncertainty over monetary and fiscal policy. Investors are flooding an increasingly profitable tech sector in response.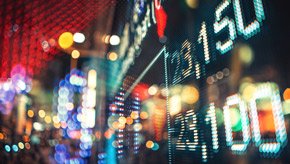 On Tuesday, U.S. President Donald Trump said he was holding up a trade deal with China. He said he wasn't interested in striking a deal unless China agreed on five "major points," although there wasn't any specification on the matter. One can assume these points include technology transfers, currency manipulation, and agricultural purchases, based on previous statements by the president.
On the global front, ongoing protests in Hong Kong continue to rattle Asia-Pacific markets. More than 1 million people recently protested a controversial extradition bill that would allow China to extradite political dissidents from Hong Kong. To put that figure into perspective, Hong Kong has a population of roughly 7 million people.
Stocks to Watch Today: TSLA, LULU, CVX
The $12 Trillion 5G Revolution Is Here!
It's the greatest breakthrough in history. It can usher in an incredible new world, potentially minting millionaires by the bucketload!
And one $6 company - that no one is talking about - could skyrocket in 2019.
Here's how you could make 10 times your money from this red-hot phenomenon.