While there are always stories about traders lucking into a winning stock on a hot tip, most of the time making money requires thoughtful work. And like any tradesman, a good set of tools is invaluable in getting that job done.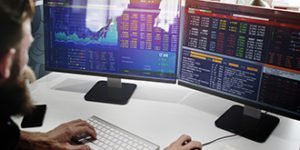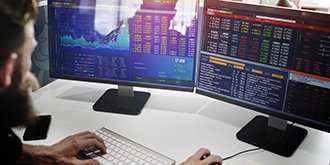 You might be able to drive a nail by banging it with a rock, but the result is so much better when you swing a nicely weighted hammer. The same applies to your trading tools. That's what we are going to bring to you here – a set of finely balanced tools to help you create great wealth.
These tools are not exotic instruments, either. In fact, they are simple items that trade on the stock exchange every single day. And the odds are pretty high – practically a certainty – that you own some of them now or have owned them in the past.
Money Morning's options trading specialist, Tom Gentile, uses four regular and widely watched exchange-traded funds (ETFs) to analyze the markets. And you can follow them easily on any number of free stock-charting websites.
If you understand which way each is moving, then you will understand what you have to do with your trades.
Here's how to use them to make money…
Market Forecasting Tool No. 1: Stocks
The SPDR S&P 500 ETF Trust (NYSEArca: SPY) tracks the S&P 500, and it gives you a quick and direct way to follow the ebb and flow of the overall stock market. The index tracks the largest and most liquid companies on the major domestic exchanges and represents roughly three-quarters of the entire capitalization of the U.S. stock market. That's $22.93 trillion!
In order to quickly follow the stock market, we need one concise tool to analyze, and the SPY ETF is just that. We can chart it just like any stock and apply the same indicators to determine whether its momentum is bullish, bearish, or something in between.
One of the quickest ways to figure that out is by applying the 200-day simple moving average. Institutions, even those that do not claim to use chart analysis, still keep tabs on this average because it serves as a proxy for the longer-term trend.
$1 Cash Course: Tom Gentile is offering a rare opportunity to learn how to amass a constant stream of extra cash – year after year. And he's going to teach you how to do it entirely on your own. Learn more…
A simple moving average is just what the name suggests. It's the average price of the underlying stock or ETF for the past 200 days. Each day, the value is recalculated so the average "moves" over time.
The rule of thumb is that if the market is above the 200-day average, then it is more bullish than bearish. And when it falls below the average, the market is no longer as healthy. The only wrinkle is that flat moving averages must be taken with a grain of salt. In a flat or choppy market, crosses above or below the average are less meaningful.
Market Forecasting Tool No. 2: Bonds
The iShares Barclays 20+ Year Treasury Bond (NASDAQ: TLT) tracks the longer maturities of the U.S. Treasury bond market and is a good way to follow interest rates. Usually, stocks and bonds dance around each other. However, when the economy starts to wobble and stocks and bonds disagree on direction, chances are that the bond market will be correct.
In other words, when trouble starts, we usually see bonds rally and interest rates fall. Bond prices and interest rates naturally move in opposite directions.
7-Day Cash Course: With the secrets in this video series, you could potentially start collecting anywhere from $1,190, $1,313, and even $2,830 in consistent income – each and every week. And it can be yours for only $1…
It could be a flight to the safety of government-backed bonds. Or, it could simply be a loss of confidence that drives people to go for a fixed income over the chance for capital appreciation, if not avoiding capital loss.
Right now, the bond market is trending higher, and technical indicators tell us that demand for bonds, at least for the bond ETF, remains strong. That could give the stock market some headwind.
Market Forecasting Tool No. 3: Currencies
While there are many important and actively traded currencies around the world, the U.S. dollar remains the most important. It has been the world's reserve currency for decades, and such commodities as Mid-Eastern crude oil and South African gold are all quoted in dollars.
The difference between currencies and most everything else that trades is that currencies come in pairs. You cannot buy dollars with dollars. You need Japanese yen or British sterling, or even Nigerian naira. Therefore, we quote dollars in terms of other currencies and vice versa.
After the dollar, the next most important currency is the euro. It represents the United States' largest trading partner – even bigger than Canada and Mexico – so the euro/dollar currency pair is a crucial gauge for global trade.
The easiest way to track the euro vs. the dollar is with the Guggenheim CurrencyShares Euro Trust (NYSEArca: FXE). Over the past 17 months, the dollar has been strong compared to the euro. That meant that many commodities became cheaper to U.S. buyers. And it also meant that exports from U.S. companies got more expensive to overseas buyers.
Last week, in the light of proposed tariffs on Mexico, the dollar dropped, and the euro had a small awakening. It is still a little early to know if the long trend has reversed. Therefore, we should keep an eye on this relationship and the consequences for trade that might come with it.
Market Forecasting Tool No. 4: Oil