2019 is the year of cannabidiol (CBD). And that's why we've compiled a list of the three best CBD penny stocks to watch in June 2019.
According to the Hemp Business Journal, the CBD industry was valued at $170 billion in 2017. Right now, it's currently worth $591 million. By 2022, Brightfield Group says it'll soar to $22 billion. That's an insane 13,000% increase in just six years. Which is exactly why Money Morning has been so bullish on CBD penny stocks over the last several years.
In fact, the National Institute for Cannabis Investors told our readers about the CBD industry before it was even a blip on Wall Street's radar. And 2019 is poised to be the hottest year for CBD penny stocks that we've ever seen.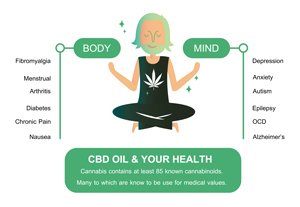 And before we get to our top three CBD penny stocks to watch, here's why the CBD industry is seeing such explosive growth this year...
Here's What Is Causing CBD's Industry Growth
The biggest catalyst for CBD's industry growth was the Farm Bill in 2018. The bill legalized the growth and cultivation of hemp on an industrial scale. And hemp is the easiest plant to extract CBD from.
Following the bill, the federal government then decriminalized hemp-based CBD oil by removing it from the Controlled Substance Act. This change paved the way for CBD to go mainstream, since it could be legally sold in stores.
And that kicked off a wave of investment in CBD firms.
Tilray Inc. (NASDAQ: TLRY) purchased Manitoba Harvest, the biggest hemp company in the world, for $314 million.
And between 2018 and now, the tobacco company Altria Group Inc. (NYSE: MO) and beer branding company Constellation Brands Inc. (NYSE: STZ) invested billions of dollars into hemp and CBD.
Tilray didn't just stop after its acquisition of Manitoba Harvest either. Back in January, Tilray and Authentic Brands Group LLC publicly announced their $100 million deal to distribute CBD products through ABG's distribution network. A network with 4,500 marijuana-focused stores that produce over $9 billion in annual sales.
But this acquisition spree is just the beginning. In fact, those who get in now stand to see double- or even triple-digit gains from CBD penny stocks.
Sign up for SMS so you never miss special events, exclusive offers, and weekly bonus trades.
STAKE YOUR CLAIM: Three pot stocks, in particular, could be poised for rare, wild gains of up to 1,000%. Click here to learn how you could see a $2 million "pot payday"...
And while penny stocks are typically speculative investments, the CBD industry could drive massive gains for investors who get in early.
That's why we've compiled a list of the three top CBD penny stocks to watch right now. We made this list by looking for stocks trading for less than $5 a share, with growth catalysts, and with an average trading volume above 200,000 shares. This makes sure our penny stocks are liquid enough to trade, helping you profit when they jump higher.
You can check out the best penny stocks to watch below...
The Best CBD Penny Stock to Watch in June 2019, No. 3: Elixinol Global
Our first CBD penny stock to watch this month is Elixinol Global Ltd. (OTCMKTS: ELLXF).
Elixinol is an Australia-based company that cultivates and manufactures cannabis products. These products include medical cannabis, CBD dietary supplements, and cannabis/health-focused food.
Elixinol is a potentially great CBD penny stock for two reasons.
First, it distributes CBD products throughout North America, the Asia-Pacific area, and Europe from its Colorado-based operations.
Second, Elixinol's Australian operations focus on its hemp-based food business. And Elixinol has operated in the hemp food retail and wholefood market for over 10 years - even exporting raw cannabis products as well.
Plus, Elixinol continues to expand even now. It just expanded its Colorado facility by 20,700 square feet. And with this upgrade, Elixinol can create 24,000 bottled CBD products per day - more than doubling the company's current production capacity, according to GlobeNewsWire.
Beyond that, the company purchased an additional 23,000 square feet of land for future expansion after having raised $50 million through investors.
And while this growth is exciting, one of the biggest reasons this company made it on our list is because it was profitable in 2018. In fact, between 2017 and 2018, its sales rocketed 121% to $25.9 million with $500,000 in net profit.
That may not sound like a big deal at first. But cannabis stocks and penny stocks on their own very rarely turn a profit. That makes this a CBD penny stock to watch in June 2019 on its own.
Its shares currently trade for $2.67 at an average volume of 391,832 per day. And the stock could soar 128% to $6.08 per share over the next year.
The Best CBD Penny Stock to Watch in June 2019, No. 2: CV Sciences
Our next play on the CBD market is CV Sciences Inc. (OTCMKTS: CVSI).
CV Sciences is a Las Vegas-based cannabis product and pharmaceutical company and another CBD penny stock with potential.
CV Sciences recently ramped up its efforts to get its product, PlusCBD Oil, in as many retail stores as it can. Near the end of March, its products were available in over 3,308 retail stores - a 48% increase from December 2018.
And much like many other CBD companies, CV Sciences has greatly benefitted from the U.S. Farm Bill that officially legalized hemp-based CBD in 2018.
In fact, since the bill's passage, CV Sciences' year-end 2018 revenue shot up to $48.2 million with a net income of $10 million. Beyond that, its Q1 2019 sales increased by 85% to $14.9 million compared to 2018's Q1. That makes CV Sciences another profitable CBD penny stock churning out cash while it rapidly expands.
Its shares currently trade for $4.10 at an average daily volume of 1,044,231. Plus, this stock could double your money over the next 12 months, as it's expected to surge 106%.
But our top CBD penny stock is poised to soar even higher. In fact, it stands to completely skyrocket in value by 243% within the year...
The Best CBD Penny Stock to Watch in June 2019
Join the conversation. Click here to jump to comments…
About the Author
Daniel Smoot is a Baltimore-based editor who helps everyday investors with stock recommendations and analysis. He regularly writes about initial public offerings, technology, and more. He earned a Bachelor's degree from Towson University.