The Dow Jones today will gain on positive sentiment around the G-20 conference.
U.S. President Donald Trump and Chinese President Xi Jinping are holding their firm positions on tariffs, but the continued diplomacy has made investors optimistic. More below.
Plus: Several banking stocks are getting a bump - and why they might be worth a look.
Here are the numbers from Thursday for the Dow, S&P 500, and Nasdaq:
Index
Previous Close
Point Change
Percentage Change
Dow Jones
-0.04
S&P 500
+0.38
Nasdaq
+0.73
Now, here's a closer look at today's Money Morning insight, the most important market events, and stocks to watch.
The Top Stock Market Stories for Friday
The S&P 500 is on pace for its best June in more than 60 years. Investors continue to pile into equities thanks to optimism that the U.S. Federal Reserve will slash interest rates at the end of July. Today, with the G-20 in focus, expect a lot of chatter about last night's second Democratic debate. During the debate, candidates like Sen. Kamala Harris took exemption with President Trump's cheering of the U.S. stock markets and said that most Americans don't own stock and haven't taken part in this year's stock market rally.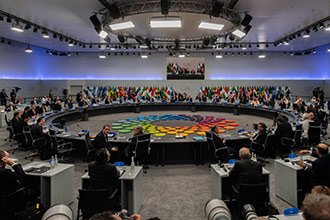 The Federal Reserve approved plans by a number of banks to boost buybacks and dividends for their investors. The banks appear well capitalized in the event of a financial downturn. Shares of Goldman Sachs Group Inc. (NYSE: GS), Bank of America Corp. (NYSE: BAC), Citigroup Inc. (NYSE: C) and Morgan Stanley (NYSE: MS) all pushed higher in the early morning. Goldman announced a 50% hike to its dividend, while Bank of America received authorization to repurchase up to $30.9 billion in stock. These stocks have proven stable through Fed stress tests, but they're just a few of many stocks safe in a recession.
Markets remain anxious about President Trump's planned meeting with China's Xi Jinping on Saturday. The leaders of the world's two largest economies are holding their firm positions ahead of this weekend's meeting. China wants the United States to cancel tariffs and lift measures against tech giant Huawei, while Trump has threatened to slap tariffs on an additional $300 billion in Chinese goods. Markets don't expect that a deal will be reached this weekend, but investors are very concerned about the downside of a prolonged battle. Morgan Stanley CEO James Gorman said that the two nations need to come to a truce.
Stocks to Watch Today: NKE, PG, BA
Shares of Nike Inc. (NYSE: NKE) were off 0.8% after the athletic apparel giant fell short of earnings expectations on Thursday. The firm reported earnings per share of $0.62, a figure that was $0.04 below forecasts. Nike did top revenue expectations, but fell a little short thanks to spending on new product launches and other marketing.
Shares of Procter & Gamble Co. (NYSE: PG) popped more than 1.5% after the firm received an upgrade from Goldman Sachs Group. The investment bank predicts double-digit returns from the firm after raising its rating from "Neutral" to "Buy." Goldman's analyst said the firm "has been a clear benefactor of the recent acceleration in end-market growth, and we expect the market to continue to grow in the 3%-plus range in the future."
Boeing Co. (NYSE: BA) is facing new strains due to a newly discovered software problem related to the 737 Max. The company is rushing to have all 737 Max fixes complete by September. A global aviation watchdog is pushing U.S. regulators to work more closely with Boeing to alleviate international worries about the safety and security of these planes.
Mark My Words: If You Don't Invest in "5G" Right Now, You'll Regret It for the Rest of Your Life
Today, you have a rare chance to lock in a ground-floor opportunity from the biggest technology of the next decade.
I'm talking about 5G. Early investors in previous generations have seen windfalls like $51,000, $80,130, $113,660, and $565,640.
But this could be 100 times bigger than all the previous generations combined.
And we have a list of recommendations that can make you a fortune. Go here.
Follow Money Morning on Facebook and Twitter.