Investors wanting to earn passive income on their money each year will want to keep an eye on real estate investment trusts (REITs).
We've got a list of the best REITs to buy in July 2019.
REITs are attractive investments because they promise gains in different forms. First, you get strong dividends that you can either reinvest or take as income. Second, the share prices appreciate, on average, faster than the broader market.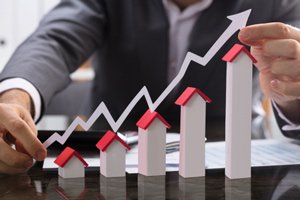 It might be tempting to chase the latest IPO or tech gadget stock with your investment dollars, but a growing number of private equity firms are putting their smart money into real estate assets. If you follow their lead, you'll reap the same rewards.
However, there are a ton of choices when it comes to REITs. Currently, the SEC has 225 of them registered, with a total combined market cap of over $1 trillion. It can be confusing and challenging to figure out which are the best REITs now.
But the Money Morning Stock VQScore™ is our propriety stock screening system that allows us to track and rank stocks, including REITs.
We've used this system to uncover the three top REITs to buy in July 2019. Each one has a perfect VQScore of 4.75, signaling that it is poised to break out. These also pay massive dividends.
So, here's our first REIT, with an outstanding dividend yield of 6.15% - about three times the interest you get on your savings account.
Best REITs to Buy in July 2019, No. 3
Summit Hotel Properties Inc. (NYSE: INN) specializes in owning premium-branded hotels that target the upscale segment of the travel industry.
As of May 2019, its portfolio consisted of 69 hotels in 24 states, with a total of 10,714 guest rooms.
In April, the company announced plans to sell six hotels at a total price tag of $135 million. The net gain from this transaction for Summit was $36.6 million on the sale of properties in Dallas, Boston, Salt Lake City, Minneapolis, and St. Paul.
The company has grown its earnings by 55% over the past year, and it posted revenue of $138.9 million in Q1 2019, which was above analysts' estimates.
SESSIONS OUT: Trump's anti-marijuana AG is history, and the potential path to massive pot stock profits is wide open. Click here to learn about three of the best...
Summit earns a perfect VQScore of 4.75, which is a signal that this is a stock on the verge of a breakout.
Another positive note on this stock is its 6.15% dividend yield, which provides investors with a stable income source in today's more volatile market.
Now that Summit has placed more emphasis on balance sheet streamlining and keeping a solid portfolio of properties, the company has a share price target of $16.
This would give today's investor a 43% gain over the current price of $11.16.
But our next stock has an even higher dividend yield, and it is ready for a 44% price jump.
Best REITs to Buy in July 2019, No. 2
Brookfield Property REIT Inc. (NYSE: BPR) is a New York-based company and subsidiary of Brookfield Property Partners LP (NASDAQ: BPY).
This ownership structure gives Brookfield an advantage over many other REITs. The company has access to institutional investors with deep pockets for putting money into real estate regardless of the market conditions.
Brookfield is one of the largest commercial real estate companies in the world, with roughly $86 billion in total assets. The REIT is a diversified mix of premier retail and office assets as well as interests in industrial, multifamily, self-storage, hospitality, manufactured housing, and student housing assets.
The company is known as a leader in leveraging private equity real estate funds that run value-added properties and produce significant cash flows. Roughly 20% in average annual returns are generated by these funds.
BPR currently operates 125 high-end U.S. properties, accounting for about 121 million square feet of leasable space.
Some of its properties include Georgia's Augusta Mall, 530 Fifth Avenue and 85 Fifth Avenue in Manhattan, and 604 North Michigan Avenue in Chicago.
Even more important than those street addresses is the VQScore because it comes in at a perfect 4.75.
The company also pays a hefty 7% dividend and has a healthy upside considering its properties attract premier anchor stores.
BPR trades at 18.70, and it could soon be worth $27 per share, which gives today's investor a return of 44%.
But our best REIT to buy has the most upside of the three, with an 8.98% dividend yield and yet another perfect VQScore...