Trade war fears sent the Dow Jones tumbling 800 points this week. But this has actually created a great opportunity to pick up shares of one of the best cannabis stocks to buy.
The financial markets have scared a lot of people into believing a recession is right around the corner. That is far from what we see, however.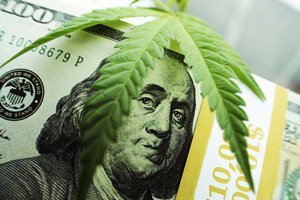 Just look at the surge in retail sales in July, as reported in Thursday morning's retail sales report. In fact, the gain was more than double what analysts expected.
No, we do not think the bull market is over. Corrections are supposed to happen from time to time. These are buying opportunities for experienced investors, not times to panic.
But here's where it got even better for us…
One of the best cannabis stocks got caught up in the hysteria, making this a rare opportunity to buy in at the bottom.
Once you see the chart below, you'll know why we think this pot stock could rocket nearly 200% higher…
Canopy Growth Is One of the Best Marijuana Stocks to Buy Now
After the close Wednesday, one of our favorite cannabis stocks, Canopy Growth Corp. (NYSE: CGC), was rocked for a 14% loss on a fiscal first-quarter earnings miss. The reported loss stemmed from a one-time charge regarding warrants held by Constellation Brands Inc. (NYSE: STZ) as part of its major investment in Canopy last year.
SIT THIS ONE OUT and you could miss an American economic revolution that could send three little pot stocks soaring up to 1,000%. Click here to see why…
Sales did fall short of analyst estimates, but behind that headline, net revenue more than tripled to $90.5 million Canadian dollars from CA$25.9 million.
All of this comes on the heels of a management shake-up – the departure of former CEO Bruce Linton and scheduled departure of co-CEO Mark Zekulin.
However, as Money Morning Director of Cannabis Investing Research Greg Miller says, these are necessary steps in the evolution of this young company with a multi-billion-dollar market cap.
Even if Canopy is the market share leader in the Canadian cannabis market, there's still a lot of work to be done. Canopy has been operating for six years, but it has only been selling legal cannabis to recreational consumers for 10 months. Last year, Canada became the first major country to fully legalize weed for all uses.
That essentially makes the company a startup in need of fresh ideas to take advantage of its growing influence.
Further, Canopy's market share is mostly in Canada now, which is a tiny fraction of the global cannabis market. That means the potential for expansion is huge. And it is not uncommon for founders to leave voluntarily or get fired just as the company hits its stride.
Innovators are not always the best leaders. New leadership can take it to the next level, and that is global.
Greg already thinks Canopy will be the dominant player in the global cannabis market, and that's why he calls it the "Microsoft of cannabis."
Strategy for Growth
With a cash infusion of $4 billion, thanks to Constellation Brands' investment, the company can make moves to continue its growth trajectory. And it does not hurt that it has a few celebrity partners, such as Snoop Dogg, Seth Rogen, and Martha Stewart, in its corner.
More importantly, the company just bought Acreage Holdings Inc. (OTCMKTS: ACRGF), the biggest marijuana operator in the United States. This acquisition provided Canopy Growth operations in over nine states and a dominant position in the growing CBD market.
Don't forget, the legalization wave in the United States is just getting started, and that especially includes legalization at the federal level. The question is not "if" but "when" this all happens. It will be a huge catalyst for marijuana stocks, and Canopy's revenue will surge higher.
But there's one more factor that makes Canopy Growth such a bargain right now.
That one thing on the chart below could more than double your investment.
Why One of the Best Cannabis Stocks Could Triple Your Money