We've been recommending Verizon Communications Inc. (NASDAQ: VZ) as our top 5G stock all year. And the company just caught its biggest headwind yet, which could mean a 188% growth target for VZ stock.
The last time we recommended VZ was less than a week ago, on Aug. 23 (Friday). We talked about how Verizon has been building a 5G network that will propel the stock further.
Of course, 5G is the future of not only telecom and entertainment, but a host of other sectors like healthcare and transportation.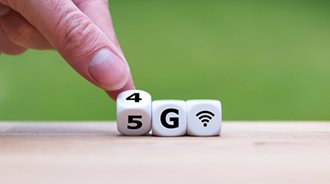 In contrast, we said Comcast Corp. (NASDAQ: CMCSA), one of VZ's major competitors, was underestimating 5G. Its leadership has suggested the company doesn't need to adapt to 5G. They've long believed their broadband services would keep their company on top.
But shortly after that, news broke that Comcast may not have its head as deep in the sand as we thought... and it's money in the bank for Verizon.
It was announced that Comcast and Charter Communications Inc. (NASDAQ: CHTR), two of the nation's largest broadband companies, would enlist Verizon's 5G network to advance their mobile services.
It's the "Breakthrough of the Century": The latest tech development is projected to create billionaires by the dozen. You can still get in on the ground floor, before the world "goes 5G." Find out how here...
Verizon's 4G LTE network is currently the foundation of both Comcast and Charter mobile services. But before the announcement, it was unclear whether Comcast would see the value of upgrading to 5G.
Now, we know the broadband companies are investing in 5G. And they're choosing Verizon's 5G.
The terms of this partnership are yet to be specified beyond "at some point in the future." But the promise of covering Comcast's more than 1 million mobile lines and Charter's half-million lines could begin to accelerate growth in the VZ stock price very soon.
Both companies are currently spending money to increase their subscriptions. Comcast has 1.4 million and counting, and Charter serves a total of 518,000 as of June this year.
The 5G industry is currently valued at about $131 billion, poised for 111% growth over the next five years, towards $277 billion. And as Verizon continues to build its 5G network across the United States, taking big-name clients like Comcast and Charter on its back, this company can gobble a huge piece of the 5G market.
Analysts give Verizon a 17% growth target. But here's why VZ stock is more likely to make today's investor 188% profit.
Why Verizon Is the 5G Stock to Buy - and Could Pop 188%
[mmpazkzone name="in-story" network="9794" site="307044" id="137008" type="4"]
It's no secret that Verizon is the largest wireless provider in the United States. It's similar in size to Comcast and might be viewed similarly as a monopoly.
What separates Verizon from companies like Comcast and Charter is that it's a "wireless" company. That means it's ahead of the curve - clearly, as both Comcast and Charter have adopted its wireless services in the past.
Verizon has been building its 5G infrastructure across the United States all year, starting with Chicago and Minneapolis.
The company has shown that, despite its size, it understands progress and the importance of getting in on the ground floor of the 5G movement.
VZ currently trades for $57.43 with a 17% analyst growth target of $67.
But this stock also has a price/earnings (P/E) ratio of 14.79, much lower than the industry average of 42.83. That means it's steeply undervalued.
If Verizon were to be valued similarly to its industry (that P/E of 42.83 I just mentioned), it could soar to $164 for a gain of 188%.
Not to mention, VZ also pays a solid 4.28% dividend to enjoy.
Morningstar Research says Verizon should grow earnings 9.46% per annum, almost three times the market growth rate.
With its pulse on 5G and the business rolling in, expect a lot of surprise earnings from Verizon in the future.
Time Is Running Out to Claim Your Stake in This Projected $12 Trillion Opportunity
This major tech breakthrough is only just starting to catch on. But hear us when we say that when it takes off, it will change the world as you know it.
We have been talking about this wireless network since it was barely more than an idea. But now that it's making headlines, it's preparing for the largest - and what could be the most profitable - breakout in our lifetime.
It's currently being picked up by the largest mobile phone providers in the game, including Verizon, AT&T, and Sprint...
You can still take advantage for under $6 a share, but trust us, you won't see this price much longer.
Follow Money Morning on Facebook and Twitter.
About the Author
Mike Stenger, Associate Editor for Money Morning at Money Map Press, graduated from the Perdue School of Business at Salisbury University. He has combined his degree in Economics with an interest in emerging technologies by finding where tech and finance overlap. Today, he studies the cybersecurity sector, AI, streaming, and the Cloud.