Many consider angel investing to be exclusive to the hyper-elite.
For a long time, this was the status quo. If you didn't have anywhere from $50,000 to $1 million in spare cash, angel investing just wasn't an option.
That's exactly why Neil Patel started the Angels and Entrepreneurs Network. The Angels and Entrepreneurs Network is basically "angel investing for dummies."
Once Congress passed the JOBS Act in 2012, 240 million U.S. citizens had the door opened for them to start angel investing.
But many weren't aware of the change or just how lucrative an opportunity angel investing could be. Nor did they know what it was or where to start.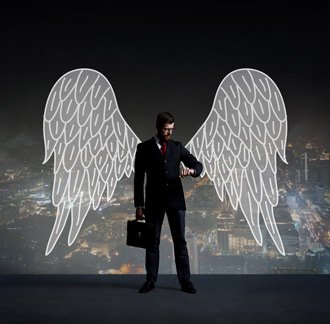 Just imagine if you were one of the original 22 angel investors in Amazon.com Inc. (NASDAQ: AMZN). If any of those investors held onto their shares from the mid-1990s to now, they'd be worth upwards of $8.5 billion.
That's an insane 17,000,000% gain.
While that's just one example of incredible gains from angel investing, just about anyone could see life-changing windfalls with the Angels and Entrepreneurs Network.
In fact, you can start angel investing with as little as $50.
Watch Now: Serial entrepreneur Neil Patel reveals how you can achieve the American Dream… for as little as $50. Click here…
You read that right. If you have $50 to spare, you can be an angel investor. And once you've read through this article, you'll have all the tools to take advantage of one of the most lucrative investment opportunities out there.
But before we get to that, let's look a little closer into how angel investing works…
Angel Investing for Dummies: What Is Angel Investing?
Originally, angel investors were rich people who would invest in struggling theaters to keep them running. Now, angel investors give startup companies the capital they need to get off the ground. As a result, angel investors receive a stake in the firms they invest in.
Angel investing works similarly to buying traditional stock, only your terms of ownership may vary as you're buying shares privately instead of on major indexes.
If you were to invest in a company like Microsoft Corp. (NASDAQ: MSFT), you'd get shares at a much lower risk with moderate passive returns.
With angel investing, it's high-risk, but it can have a much higher reward.
In some cases, angel investment agreements offer preferred stock to investors (which has more advantages than publicly traded common stock). In others, it could be bonds or even convertible debt that you can exchange for common stock down the line.
And what makes angel investing exciting is the fact that you can put your money into firms that you're most passionate about. As an early investor, you have a bigger say in the direction a company goes.
Check out how…
Angel Investing for Dummies: How to Start Angel Investing