Conflicts around the globe have created uncertainty on Wall Street. As a result, the Nasdaq dropped 2.5% in August alone.
But you don't need to fear an oil crisis, Brexit, or a trade war if you're holding our top penny stocks to watch now. One of them alone can earn you 157% on your investment.
Half of Saudi Arabia's oil production was shut down after a drone attack on Sept. 14 (Saturday). On Sept. 1, the U.S. Commerce Department announced a new 15% tariff on $112 billion in goods from China. And we're still waiting for Brexit to happen.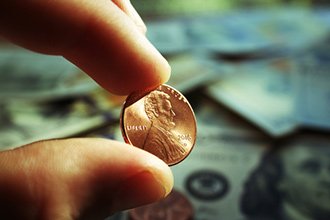 So it's safe to say these are volatile times. And high volatility can make some investors clutch onto whatever safety they can find. They'll flood the selling floor – but often too quickly.
Those investors don't realize they can still make money under these conditions. In fact, the best penny stocks tend to be most profitable when volatility strikes.
The CBOE Volatility Index (VIX) has been up and down over the past several months. It jumped over 23 on Aug 15 and has been north of 20 multiple times of late.
A VIX higher than 20 makes most of Wall Street uneasy. But it should have the opposite effect for penny stock investors.
Watch Now: Serial entrepreneur Neil Patel reveals how to achieve the American Dream… for as little as $50. Click here…
Volatile markets are the perfect space for penny stocks to do what they do best. Major swings in price can create huge profits from small investments.
For example, growth of $1 in share price for a $5 stock versus a $50 stock is the difference between 20% and 2% gains. And in high volatility, penny stocks will take those strides – just like our best penny stock right now. It's a stock that could jump 157%.
We found it using the Money Morning Stock VQScore™ system. It helps us find stocks with high earnings potential. We narrow those down to penny stocks by simply selecting the ones that trade under $5.
The VQScore has found three penny stocks to buy now, each with the highest possible VQScore of 4.9.
Anything above a 4 means the stock is likely to break out. But a perfect 4.9 means the stock is almost certainly ready for a big jump.
Our first penny stock expects solid growth of 60% this year. But keep reading because our top penny stock could more than double your money.
The Top Penny Stocks to Watch Now, No. 3: BGC Partners
BGC Partners Inc. (NASDAQ: BGCP) is a financial services firm based in New York.
It became its own entity when it separated from its parent company, Cantor Fitzgerald, in 2004. Since then, the company has experienced tremendous growth and innovation.
BGC is a global brokerage and financial technology company offering a wide range of services. The company engages in foreign exchange, brokerage, futures, fixed income, equities, and commodities. Some of the back-office services that it delivers to both financial and non-financial clients include clearing, trade execution, broker-dealer, and information.
Over the past two decades, the company has poured $1.7 billion into technology initiatives and a drive to expand globally. It now has an edge over competitors in the electronic trading space as this area continues to grow.
Some of the tech solutions that BGC offers include BGC Trader, Credit Match, EMBonds, Capitalab, and Fenics.
In 2007, the company opened two major international locations, one in Seoul, South Korea and one in Istanbul, Turkey.
Over the past five years, its profits have skyrocketed. In 2014, BGC recorded decade-low profits of just $4 million. Today, that figure has jumped to $74 million. The company has been able to increase its profits by 43% just between 2017 and 2018.
With laser focus on expansion and technology, it can profit from a growing reliance on global trading. According to a recent IBISWorld market research report, the digital brokerage sector is predicted to grow by 6.2% over the next five years. It also expects more than $313.4 billion in annualized returns.
BGCP is currently trading at $5.61 per share, and analysts are forecasting that this stock could jump 60% over the next year to $9.
That's an excellent return for a penny stock, but it's not as much as our next pick. This one is inching toward double-your-money territory…
The Top Penny Stocks to Watch Now, No. 2: Resolute Forest Products
Resolute Forest Products Inc. (NYSE: RFP) is a Canadian forest products company. It supplies wood-based products around the world. These include paper, pulp, construction-grade wood, and various specialty papers.
RFP reaches over 70 countries, with major operations throughout North America. One of the things that makes the company unique is its focus on producing high-quality products while minimizing environmental impact.
By positioning itself as a leader in sustainable products, RFP has a chance to become one of the world's largest paper products suppliers.
In the past, the company had difficulty finding profits, but this has changed recently. In 2018, it was able to report $238 million in profits while also growing its operating income by a stunning 736%. This was accomplished thanks to various cost-cutting efforts and a commitment to sustainability.
It continues to be overlooked by Wall Street even though it has a 3.25 price/earnings (P/E) ratio. That's compared to a historical average of 14.87. So this stock is incredibly undervalued.
RFP is currently trading at $4.90 per share, but analysts have given it a $9 price target. This would give today's investor the potential for 83% gains.
But that's still not even close to our best penny stock. Here's the 157% growth stock you're after…
This Is the Top Penny Stock to Watch Now