You've got your options strategy in place. You're ready to make a trade. Only one question remains…
What are the best stocks for options trading?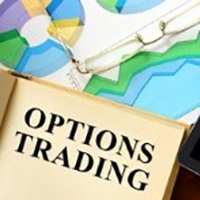 There are over 600,000 companies traded publicly around the word. Even limiting them to the NYSE and Nasdaq only gets you down to about 6,000. And that's not including ETFs.
Only a fraction of those securities can realistically play a role in profitable options trading strategies.
Of course, the stocks you pick for options trading are ultimately your choice. And over time, you'll develop your own ways of finding the securities that suit your purposes as a trader.
But to help you get started right now, we're bringing you five of the best stocks for options trading.
These are stocks (and ETFs) with a high trading volume. So you won't get stuck holding an option that no one wants to buy.
Also, these are stocks whose near-the-money options typically have a narrow bid-ask spread (less than $0.05).
That's important because you'll be buying at the ask price and selling at the bid price. If the ask is significantly higher, you're losing money on the trade before the underlying share price goes anywhere.
Finally, these are stocks with a lot of mobility. That is, their share prices move a lot. And they often move predictably, depending on events and trends that are linked to particular stocks.
If you want to make money with options trading, tracking these trends and placing trades accordingly is essential.
And these five stocks and ETFs are an easy place to get started.
So let's get to it. Here are the five best stocks for options trading…
Best Stocks for Trading Options, No. 5: Facebook Inc.
Love it or hate it, Facebook Inc. (NASDAQ: FB) is a big mover in the stock market. Better yet, this is a stock that can move for multiple reasons.
For one, Facebook is one of the "FANG" stocks, the handful of American tech giants that have become the face of the Information Age. When public sentiment about Big Tech swings one way or another, these stocks are going to move.
Facebook is one of the most vulnerable to those movements, which makes it a great bellwether stock to buy call or put options on.
You Can Double Your Money Without Buying a Single Share: Learn how you can "flip stocks" for fast profits, and dozens more trading secrets in Tom Gentile's Cash Course. Get access for $1…
It's also subject to big swings during earnings season. For each of its last four earnings announcements, Facebook shares moved by at least 10% in the month immediately before or after.
Watch how the stock has performed historically, and that will give you an idea of how to play it over the next few weeks or months.
Best Stocks for Trading Options, No. 4: Alibaba Group Holding Ltd.
When it comes to tech giants in China, Alibaba Group Holding Ltd. (NYSE: BABA) is top dog. It was the first Chinese company to pass the $400 billion valuation mark. And its "Singles Day" event in November is now the biggest shopping day in the world.
Alibaba is a great stock to own in the long term, as Money Morning Executive Editor Bill Patalon will tell you.
But it's also subject to ups and downs as short-term sentiment shifts.
Case in point: BABA shares fell by nearly 10% in late September after Bloomberg reported the White House was thinking of curbing American investment in Chinese companies.
Traders who spot trends like that can capitalize and earn a quick and easy payday, even if Alibaba remains a great company to own.
Best Stocks for Trading Options, No. 3: Canopy Growth Corp.
You already know that legal cannabis is one of the fastest-growing industries on the planet.
That makes it a great sector to build a large amount of wealth over the next few decades.
But it also makes it a prime opportunity to make a quick windfall when cannabis stocks surge up or down.
You don't want to trade options on little startups, though. You need a stock that's both a pure play on cannabis and has a high trading volume.
Canopy Growth Corp. (NYSE: CGC) fits the bill perfectly.
It's one of Canada's biggest growers, is listed on the New York Stock Exchange, and at the time of writing has a bid-ask spread of just $0.01 for an at-the-money call option.
Regulations around legal cannabis are changing all the time, and that's going to mean big, fast movements in Canopy's price depending on whether the news is favorable or not.
Seven-Day Cash Course: For just $1, Tom Gentile will show you how you can collect anywhere from $1,190, $1,313, and even up to $2,830 in consistent income. Learn more…
Follow along with Money Morning Director of Cannabis Investing Research Greg Miller to keep up with what's going on in the industry and make the right move at the right time.
Best Stocks for Trading Options, No. 2: SPDR Gold Trust (GLD)
Unlike copper and even silver, gold isn't used for much. Its value comes largely from its historical status as a currency.
That's why when our currency today loses its value – say, through inflation – the price of gold goes up.
So if you expect the dollar to lose value, you can bet on the price of gold going up.
And if you expect the dollar to gain value, you can bet on the price of gold going down.
You can do that by trading futures on the commodity itself. But an easier way to do it is to trade options on SPDR Gold Trust (NYSEARCA: GLD), an ETF that tracks the price of gold.
Keep up with Money Morning Resource Specialist Peter Krauth, and you can trade on gold price movements with confidence.
Best Stocks for Trading Options, No. 1