Mexico could completely legalize marijuana by next week. And marijuana legalization in Mexico has the potential to be as big of a catalyst for marijuana stocks as Canada's legalization movement.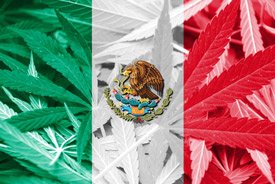 A bill to legalize cannabis will be ready for a vote in the Mexican Senate by the end of this month, as the self-imposed deadline of Oct. 23 is fast approaching. This is a big opportunity for investors to get in on cannabis before another major catalyst hits, making right now one of the best times to be a cannabis investor.
Just look at what happened after Canada legalized cannabis in October 2018.
The Alternative Harvest ETF (NYSEArca: MJ) surged nearly 50% between August and October 2018. But individual cannabis stocks did even better.
Canopy Growth Corp. (NYSE: CGC) nearly doubled in the same time period, while Tilray Inc. (NASDAQ: TLRY) famously surged 383% higher.
Now, Mexico's cannabis law could offer similar upside for investors.
Keep in mind that Mexico is the world's 15th largest economy, just behind Canada at No. 10.
What this also means is that the United States will be sandwiched by two cannabis-friendly countries, which could hasten full U.S. legalization.
THREE STOCKS: Any one of these cannabis companies could potentially deliver a 1,000% windfall. Click here to learn more...
But the law isn't a done deal yet. Here's what's going on behind the scenes, plus the one stock you need to own ahead of Mexico's marijuana legalization.
This is the only company we're tracking that is tapped right into the Mexican cannabis market, and it offers 140% upside.
And that's before Mexico legalizes cannabis...
Why Mexico's Cannabis Law Is a Game Changer
Mexico's legalization of marijuana is all but inevitable.
Last year, the Mexican court ruled that the ban on personal possession, use, and cultivation of marijuana was unconstitutional and that the laws must change by this October. Mexican lawmakers expect approval within a previously set Supreme Court deadline to end cannabis prohibition on the federal level.
In other words, the court already put the country on the path to legalization for adult use.
If everything goes according to plan, the Mexican market could be worth $2 billion, according to New Frontier Data. Another estimate puts it at $12 billion by 2029.
Medical marijuana has been legal in Mexico since June 2017, and Grandview Research expects this subsector to continue to grow at a compounded annual rate of 27.7%. Indeed, major cannabis companies are already working to capitalize through direct operations and acquisitions.
But one company is one step ahead of its rivals...