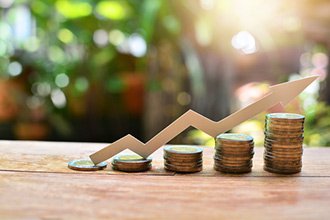 It's a dog day for the Dow Jones as major earnings reports reveal the impact of the China trade war. Hasbro Inc. (NASDAQ: HAS) is among many firms citing China tariffs as a reason for missed earnings targets, and the stock is down over 10%.
But while the Dow today looks wobbly, one of our top penny stocks to watch expects a 112% return despite the global economic narrative.
That's higher than any of the 10 top penny stocks from last week, although they turned in a solid performance as well. The best penny stock more than doubled for last week's investors:
| | | |
| --- | --- | --- |
| Penny Stock | Current Share Price | Last Week's Gain |
| BioNano Genomics Inc. (NASDAQ: BNGO) | $1.08 | 107.33% |
| AzurRx BioPharma Inc. (NASDAQ: AZRX) | $0.79 | 76.64% |
| Attis Industries Inc. (NASDAQ: ATIS) | $1.27 | 67.08% |
| Atlas Financial Holdings Inc. (NASDAQ: AFH) | $0.70 | 59.32% |
| Xenetic BioSciences Inc. (NASDAQ: XBIO) | $1.66 | 58.10% |
| NanoViricides Inc. (NYSE: NNVC) | $2.33 | 53.29% |
| Hepion Pharmaceuticals Inc. (NASDAQ: HEPA) | $3.41 | 51.56% |
| Adynxx Inc. (OTCMKTS: ADYX) | $1.52 | 50.00% |
| Sequential Brands Group Inc. (NASDAQ: SQBG) | $1.42 | 47.37% |
| Protalix Biotherapeutics Inc. (NYSE: PLX) | $0.25 | 44.13% |
No More Guessing with Your Money: The cannabis sector is full of untapped gains… and potential nosedives. Our cannabis IPO experts have taken the guesswork out of the equation – giving only their "best in breed" stock picks. Just click here to see them…
These penny stocks are further proof you can make money no matter what the rest of the market is doing.
Blue chips will continue to deliver mixed earnings reports, and the major indexes will see a lot of up-and-down movement. But, as was proven last week, there are always good penny stocks that go against the grain.
The best penny stocks do well in these scenarios because of their low share prices. A small change in price translates to a huge percentage gain.
You can lock in triple-digit gains on a regular basis staying on top of the right penny stocks. You just need to know which penny stocks are due for a jump.
It might sound impossible to choose a few winners from the thousands of penny stocks on the market. But that's why we use the Money Morning Stock VQScore™.
Scanning thousands of penny stocks every week, the VQScore system identifies penny stocks that are ready to pop with a score between 1 and 4.9. When a stock has a 4 or above, there's a good chance it will soar in the near future.
Our best penny stock this week is one of those. It's trading under $2, but it's about to pop over 100%…
Best Penny Stocks to Buy This Week