A new report alleging Aurora Cannabis Inc. (NYSE: ACB) has been "dumping" its cannabis inventory is getting a lot of hype. It's also raising questions about whether this is still one of the best cannabis stocks to invest in.
But that's all it is: hype.
Thankfully, Greg Miller, Executive Director of the National Institute for Cannabis Investors, was there to clear things up. False rumors like these can make or break an investment.
Not to mention, it's about one of the best cannabis stocks to invest in right now. And bad information could significantly change the course of an otherwise successful marijuana portfolio.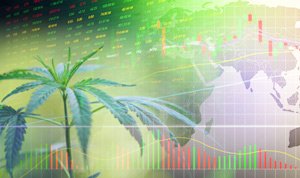 Fearmongers are pushing the angle that the company has grown too much cannabis and exceeded demand.
The implication is that Aurora is "dumping" its excess cannabis to drive prices up, a sign the whole industry is in danger.
Greg Miller, however, sheds a much more optimistic light on the current state of Aurora, a top marijuana stock.
Here's what's missing from the coverage on Aurora…
Aurora Cannabis Is Shifting Its Business
Aurora isn't "dumping" its cannabis, it's refining it.
What's really happening is that the advent of vaping products and edibles is creating a new market for cannabis oil.
While recreational pot has been made legal in Canada, we are yet to see the legalization of vaping products and edibles along with it. Miller says it's more likely the Canadian cannabis company is selling its weed wholesale to other producers so that they can then sell it as oil.
This will be a huge market once these things are legalized, and it will benefit Aurora to have a hand in it as well. The market for cannabis extract is predicted to be $23.7 billion by 2025.
You see, cannabis oil doesn't go bad as quickly as the raw plant. Big cannabis companies have received complaints about dried-out cannabis, which loses flavor and results in inferior products. But turning it into oil adds up to two years to the shelf life.
Selling a large portion of its store of marijuana can maximize Aurora's profits by limiting the amount of pot plant that is lost to the elements.
That would mean Aurora is selling its product to oil distillers, intending to eventually buy it back as oil. This will give it enough oil to sustain new demand for vaping products and edibles.
Aurora could eventually purchase the cannabis oils back from extractors to put into foods and vape pens.
Of course, every company has its problems, and Aurora could very well be going through a rough patch. But it's normal for things like this to happen early in the game.
And the Canadian cannabis market has grown according to plan thus far. Much of the negativity only amounts to growing pains.
Miller points out that sales at cannabis stores have been flat on a monthly basis since legalization, but they're now more than double the numbers we saw back in October of last year.
That's why Aurora Cannabis is still very much one of the top cannabis stocks to buy right now.
And this isn't limited to the Canadian market. Pot stocks like Aurora will continue their climb as marijuana is systematically legalized across the United States over time.
In fact, cannabis oils have already created an entire market on their own in the U.S. – one that is legal and available in many places across the country. That's the CBD industry.
It's projected to be worth $22 trillion by 2022. And we know a CBD stock still poised to benefit, with 257% upside…
The Best CBD Stock to Buy Now