The plant-based meat industry was estimated at $4.6 billion in 2018. But UBS Group AG (NYSE: UBS) predicts it will grow to $85 billion by 2030.
That 1,747% growth is propelling our best penny stock to buy this week.
This penny stock is a backdoor play on a key contender in the plant-based industry. And it's the top penny stock of the week, because right now is the perfect time to buy.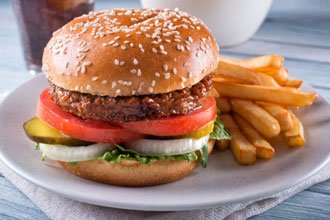 Today's investors can now get 184% per share in potential profit if they grab it now. It won't be there for long...
Because penny stocks trade around $5 or less, they can gain or lose by vast percentages in short amounts of time.
For example, another top penny stock, Soligenix Inc. (NASDAQ: SNGX), took a nice 55% bound only five days after it reported promising test data on a new drug on Jan. 14.
But our best penny stock this week was already waiting to nearly triple in price as plant-based meat started to take off last year.
Why Plant-Based Meat Is More Than Hype
Some have criticized plant-based meat as a passing fad. However, with the number of big restaurant chains adopting plant-based meat, it doesn't look like it's going away anytime soon.
McDonald's Corp. (NYSE: MCD) announced in the fall of last year that the company would be testing a P.L.T. - plant, lettuce, tomato - sandwich in the Canadian market.
The sandwich patty is sourced from the disruptive Beyond Meat Inc. (NASDAQ: BYND), which has made a splash since its May 2019 IPO. It's grown around 50% since that time.
If the Beyond Meat stock price holds on, it could be a rare case of a trendy IPO that's more than "hype." So far, this looks like the case.
Beyond Meat has partnered with iconic companies like KFC, Subway, Dunkin' Brands Group Inc. (NASDAQ: DNKN), Blue Apron Holdings Inc. (NYSE: APRN), Del Taco Restaurants Inc. (NASDAQ: TACO), and A&W Restaurants Inc.
Plant-based meat partnerships have been seen with big industry players across sectors. The venture arm of General Mills Inc. (NYSE: GIS), for example, just backed plant-based seafood brand Good Catch for its Series B round of funding last week.
With so many big brands buying into plant-based meat, it makes a good case for plant-based meat in the years ahead.
With the right plant-based meat play, you can ride the wave to more profits as the industry climbs 1,747%. And you can start this week, with our top penny stock at a discount promising a 184% profit...
The Best Penny Stock to Buy This Week
[mmpazkzone name="in-story" network="9794" site="307044" id="137008" type="4"]
Carrols Restaurant Group Inc. (NASDAQ: TAST) is the largest Burger King franchisee in the world. They've been buying up BK's for over 40 years, and now they operate over 1,000 of them.
So the success of Carrols is directly tied to the success of Burger King. And BK's success is linked to the plant-based meat movement.
While McDonald's was announcing its Beyond Meat trials in Canada, Burger King was already selling Impossible Whoppers around the United States.
Impossible Foods Inc. is another successful plant-based meat vendor in competition with Beyond. When BK announced the Impossible Burger, sales went up 5% for that quarter. CNN reports this was the strongest quarterly growth BK has seen since 2015.
An analyst estimates that stores have been selling about 45 Impossible Whoppers per day. But Cowen Research predicts they will reach 50 per day with further promotion.
But plant-based meat isn't all for this company. Carrols is also a franchisee of 55 Popeye's restaurants. And they released a wildly popular chicken sandwich around the same time as the Impossible Burger. Campaigns for the sandwich brought $65 million in media value to the Popeye's chain as it sold out of stores nationwide.
Carrols growth has stagnated in the last few months. But plant-based meat is the key to its growth in the coming year. This company is in for a big 2020.
The 55 Popeye's restaurants were only added to Carrols' holdings last year. Profits went negative after the $238 million purchase. But this year, the company stands to gain what it lost, and more, from the investment - in addition to revenue from plant-based meat.
Today, Carrols trades for just $5.11, but analysts are targeting $14.50 over the coming months. That's a 184% gain.
America's Favorite Angel Investor Shows How Easy It Is for Anyone to Invest in Ground-Floor Startups
You've probably seen stories about this person or that person making an absolute fortune from some unknown startup suddenly becoming a household name… like Uber, Airbnb, SpaceX, or Bird.
Now, it's your turn.
Shark Tank's Robert Herjavec is showing how easy it is for anyone to turn as little as $50 into what can be life-changing windfalls… all from investing in startups.