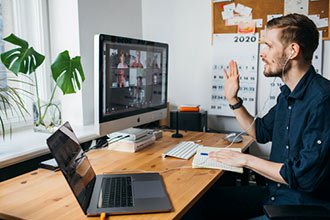 On Thursday (April 2), legendary short-seller Jim Chanos warned that investors should be wary of "coronavirus stocks" that are temporarily surging due to a large volume of "stay at home" users engaging their services.
These companies have experienced a swoon of demand thanks to the changing consumer and business behaviors fueled by the lockdown across the United States.
Perhaps there is no bigger example than Zoom Video Communications Inc. (NASDAQ: ZM).
Zoom is a popular video conferencing platform that competes with Google Hangouts by Alphabet Inc. (NASDAQ: GOOGL), Slack Technologies Inc. (NYSE: WORK), and Teams by Microsoft Corp. (NASDAQ: MSFT).
Because millions of employees are stuck at home, the company has seen a surge in usage. Employees have relied on video conferencing to communicate in meetings. The firm reported 200 million daily users in March, a figure that dwarfed its previous record of 10 million in the past.
Get Your Buy List Ready: COVID-19 has crushed markets, but stocks will bounce higher. This is a once-in-a-lifetime chance to get into great companies at historically low prices, so put these stocks on your buy list now…
Naturally, the explosion in use has many people wondering if they should buy Zoom stock now.
The answer has absolutely nothing to do with Jim Chanos, its explosion in demand, or the recent headlines about Zoom bombing and hacking across the country.
The Only Number That Matters for Zoom Stock
"Twenty million daily active users" is an eyepopping figure.
So too are the rising number of companies that are banning usage due to security concerns – a list that includes SpaceX and NASA.
But there's another number that you should know if you plan to "buy and hold" Zoom stock because you believe teleconferencing will be a trend that sticks after the coronavirus crisis.
It's 61.39.
That's the company's price-to-sales ratio.
That means the stock is trading at 61.39 times its most recent revenue figures over the last 12 months.
A lot of people ignore price to sale because they prefer to use price/earnings as a comparison metric.
But price to sales can tell you a lot about a company's stock and the probability that it's going to fall in the future.
Combine price-to-sales with short interest, and you get a predictive measure. (Short interest is the total percentage of shares floating on the market that have been borrowed but not yet covered by traders.)
Short interest is important. The higher the short interest, the more negative the market is about the direction of a stock in the future.
If you purchase a stock trading above 20 times its 12-month trailing revenue [TTM] when short interest is rising, you're taking a risk.
Since 2000, stocks trading at 20x revenue with a special recipe of increasing short interest have lost – on average – 20% per year.
But Zoom isn't trading at 20x revenue.
It's trading at 61.79 times revenue.
That can be dangerous if you don't know what you're buying into.
Zoom Stock Looks Expensive, but You Can Still Profit