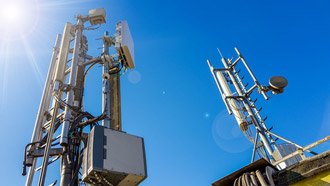 Every month, in a small conference room on 12th Street SW in Washington, D.C., the U.S. Federal Communications Commission (FCC) chair, along with the FCC commissioners, gather to discuss America's communications system.
During these meetings, the FCC approves or denies technologies and budgets.
The votes they make can mean billions to American corporations developing these technologies.
The next meeting takes place this Thursday, April 23. And it could have major ramifications for one 5G stock in particular...
What Thursday's Meeting Means for 5G Stocks
During this Thursday's meeting, 5G will be the focus.
5G is on the FCC's mind after it came across a significant problem with 4G. It's one it needed desperately to fix with 5G's rollout.
It was recently uncovered that mobile carrier coverage maps didn't cover what they had claimed. It turns out that promised speeds didn't meet expectations 40% of the time and that some tower locations did not even exist.
Get Your Buy List Ready: We're in the midst of a once-in-a-lifetime chance to get into great companies at historically low prices, so put these stocks on your buy list now...
Coverage is more important than ever. Especially with a large percentage of the workforce now working from home. This under-coverage (unreported or not) is a significant issue for the U.S. economy.
This is all set to change on Thursday.
That's when the FCC will vote on a $9 billion fund to expand 5G to the far reaches of the United States. It's an issue that is very important to Ajit Pai, the current chair of the FCC. He believes that 5G needs to narrow the digital divide and that rural Americans should also benefit from wireless innovation.
Approximately 97% of the U.S. land area is in rural counties, with 60 million people living there. That's roughly 20% of the population.
It's a massive amount of territory to cover, and 5G is perfect for this space, especially when you consider how expensive it would be to get fiber to all those locations.
Just think of all the new towers, antennae, and networking equipment that would need to be put in place in order to get 5G across the entire United States.
Projects with this kind of scope and spending don't come around every day.
That's why I'm going to show you one 5G stock set to capitalize on $9 billion of new 5G spend.
This 5G Stock Could Take a Chunk of the FCC's $9 Billion Fund
Join the conversation. Click here to jump to comments…
About the Author
Alex Kagin is the Director of Technology Investing Research at Money Map Press. He has spent the last decade working in equity research, most recently with Energy Capital Research Group (ECRG), where he led technology stock research along with working as part of a team developing a customizable financial data platform for securities analysis.
Prior to joining ECRG, Alex spent 8 years at DeMatteo Research, a boutique primary research firm and broker-dealer servicing the institutional investment community. He managed the Tech, Media, and Telecom vertical where he spent time connecting with hundreds of tech executives and hedge funds to get the pulse of the market.
Alex has a B.S. in Economics from American University and previously held Series 7 and 63 security licenses.