I recently shared a mobile phone snap with my Straight-Up Profits readers. I was on a shopping trip here in my home state of Delaware...
At the time, I said there would be no food shortages, but that we'd probably have to settle for different food in different packaging - maybe less processed, maybe of a different variety.
Since then, the headlines about and statements from the food industry have only gotten worse.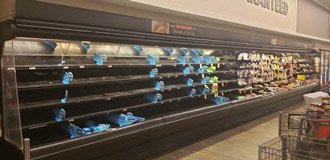 Lisa Lochridge, director of public affairs for the Florida Fruit and Vegetable Association, says the food supply chain is in "a disastrous situation." And in an ad - a full page, no less, this past Sunday in The Washington Post, The New York Times, and The Arkansas Democrat-Gazette, John Tyson, the board chair of meat processor Tyson Foods Inc. (NYSE: TSN), warns "the food supply chain is breaking."
And the statistics look scary, too. About 33% of U.S. pork processing capacity is down right now, and Tyson just closed its first large poultry plant.
"World's Biggest Wheat Supply Dries Up When Some Want It Most," declares a recent Bloomberg News headline.
Friends and even family are reaching out to me, worried about a pending food shortage. Who wouldn't be after seeing these headlines?
Well, I'm not - and you don't have to be, either. Because this situation is a classic Reality Gap - and another COVID-19 myth that needs handling.
Not only are we not about to run out of food, but there's a very profitable setup unfolding that could put a little extra something on your family table.
Join the conversation. Click here to jump to comments…
About the Author
D.R. Barton, Jr., Technical Trading Specialist for Money Map Press, is a world-renowned authority on technical trading with 25 years of experience. He spent the first part of his career as a chemical engineer with DuPont. During this time, he researched and developed the trading secrets that led to his first successful research service. Thanks to the wealth he was able to create for himself and his followers, D.R. retired early to pursue his passion for investing and showing fellow investors how to build toward financial freedom.