Cash is dead. And the latest evolution in how we pay could be one of the biggest investment opportunities of the year.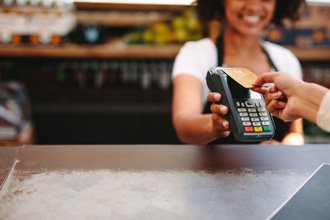 Humans have used all sorts of things as a store of value since the dawn of time. Rare metals, cattle, salt, shells, even jugs of whiskey in the late 1700s. Over time, we have transitioned from items of value to items that represent value, from coins and paper to digital forms. Since Roman times, people have tried out many alternatives to carrying cash. Arab merchants developed bills of exchange in the eighth century, and the first check in the United States was said to have been first used in 1681.
The first major payment revolution began in 1949. Businessman Frank McNamara was out for a nice meal in New York City when he realized one thing - he had forgotten his wallet. An embarrassment he never wanted to face again, he started thinking. Only a few short months later, he returned to the very same restaurant - and when the bill arrived, he paid with a small cardboard card, known today as a Diners Club Card. This event was hailed as the "First Supper," paving the way for what we now know as the credit card.
Just Released: Our new Premium Stock Pick not only held its ground against the COVID-19 market sell-off; it actually gained in value. And it's going to keep climbing on a major new catalyst. Get the pick for free here...
Almost 70 years later, in 2018, a major tipping point took place for the first time in history. Physical currency took a back seat to debit cards, which made up 28% of payments.
Since that event three short years ago, the next major payment revolution has begun: contactless payments.
And it could be one of the most profitable tech breakthroughs this year...
The Cashless Revolution Could Pad Your Wallet
Now, this revolution may have been a quiet one going on the background, but it has suddenly been thrust into the spotlight. Just last week, PayPal's CEO said on its earnings call, "I believe we will look back at this time as a tipping point, where digital payments both offline and online become an essential element of our lives."
Right now, we can all relate to this. Many parts of our lives have changed over the last few weeks, including the places we go, the people we see, how we travel, and how we pay for it all. In fact, for the past two months I have not touched a single dollar bill or coin, instead relying exclusively on electronic payments systems. I don't even want to touch the number pad when using my credit card at the grocery store.
I'm sure you are thinking the same thing to yourself, and you are not alone. Online merchants such as Amazon.com Inc. (NASDAQ: AMZN) and Shopify Inc. (NYSE: SHOP) are thriving. More and more brick-and-mortar stores have shifted to systems where you order and pay ahead of time and pick up curbside. Publix, a national grocery chain with over 1,000 locations, is now rolling out contactless Apple Pay. And according to research conducted for the Daily Mail, half of small businesses have already banned cash or plan to do so soon in the UK.
We are moving faster than ever before to a cashless system.
Here are just a few more examples of what is happening:
Deliveroo, a London-based food ordering company, is launching a "no contact" option that allows customers to order food without interacting with the delivery driver. Uber Eats does this as well.
Nordstrom is going to start reopening its almost 400 stores and will stop accepting cash.
Amazon has had to put new online grocery shoppers on a wait list since it cannot keep up with demand.
Samsung is launching a Samsung Pay debit card.
Are we about to abandon a practice that dates back over 5,000 years to ancient Egypt? The coronavirus pandemic, and our efforts to cut the transmission of this disease to protect our neighbors, is forcing us to ask whether we have outgrown the need to carry and use money in a physical form.
Whether it's tapping a credit card on a contactless payment terminal, using a digital credit card on your Apple iPhone, or completing a payment through PayPal, the rise of digital currency has been given a gigantic boost by the pandemic.
And it's here to stay....
How to Grab Your Share of This $2 Trillion Dollar Industry
Join the conversation. Click here to jump to comments…
About the Author
Alex Kagin is the Director of Technology Investing Research at Money Map Press. He has spent the last decade working in equity research, most recently with Energy Capital Research Group (ECRG), where he led technology stock research along with working as part of a team developing a customizable financial data platform for securities analysis.
Prior to joining ECRG, Alex spent 8 years at DeMatteo Research, a boutique primary research firm and broker-dealer servicing the institutional investment community. He managed the Tech, Media, and Telecom vertical where he spent time connecting with hundreds of tech executives and hedge funds to get the pulse of the market.
Alex has a B.S. in Economics from American University and previously held Series 7 and 63 security licenses.