The other day, I mentioned GameStop Corp. (NYSE: GME), as a trade or a buy, is radioactive right now. The stock is off-the-charts expensive, totally divorced from fundamental reality - and most of the options you can trade on it are just as bad.
Other beaten-down stocks the Redditors have set their sights on, like AMC Theaters Holdings Inc. (NYSE: AMC), Bed Bath & Beyond Inc. (NASDAQ: BBBY), and a few others, aren't much better.
Ultimately, these stocks will likely sink again, which, at any other time, would make for a compelling short play, but conditions are so volatile, spreads are so wide, that, for the most part, trading them is neither feasible nor sensible right now.
All the same, I think there's still money on the table, from what will ultimately be downside moves. It'd be a shame to just leave it lying there.
I found a fantastic trade on my screen the other day that I'm calling a "back door" to all this.
You can put this trade on for a fraction of the cost and risk of coming anywhere near stocks and options the Redditors are controlling right now.
Here's what to do...
The Retail Sector ETF Is Getting Thrown for a Loop
It's not surprising when you think about it: GameStop is having a sector-wide ripple effect.
Those effects are obvious when you look at the SPDR Select Sector Retail ETF (NYSEArca: XRT).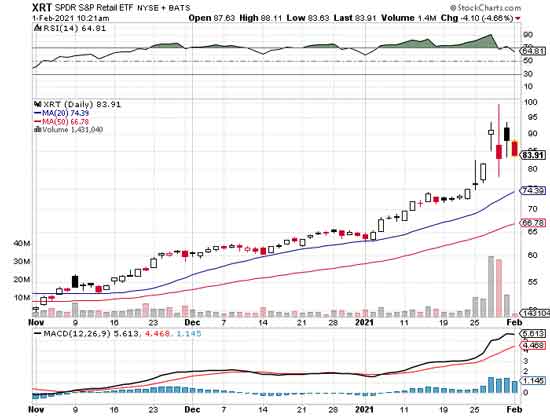 XRT gets you exposure to 95 S&P 500 retail stocks from every corner of the sector. It's tempting to think of the entire retail sector as "GameStop... and these 94 other stocks" right now, but there's more to it than that.
Now, it's true that, as of today, GME is the 800-lb. gorilla in XRT's tree. Its shares count for a bit less than 20% of XRT's holdings by weight, when they should come out to around 1%, but that's the kind of impact the Reddit-savvy day trading crew is having right now.
But dig a little deeper, and we'll see some familiar, welcome faces that have handed us some nice profits over the past 11 months or so....
Kroger Co. (NYSE: KR), Ollie's Bargain Outlet Holdings Inc. (NASDAQ: OLLI), Overstock.com Inc. (NASDAQ: OSTK), Sportsman's Warehouse Holdings Inc. (NASDAQ: SPWH), Big Lots Inc. (NYSE: BIG) - all stocks we've played successfully, some for 100% or better profits, over the course of the coronavirus pandemic.
XRT itself is up more than 29% since the start of the year, but, over the past week or so, XRT has seen around $700 million in outflows, or around 80% of its assets. You usually don't see that in an ETF that surges 20% in a week.
GOT A 10-FOOT POLE? Don't put it anywhere near these 19 popular stocks. Get the free list here...
I've heard and read some interesting theories as to why. XRT offers in-kind redemptions, which means ETF shares can be exchanged for actual stock the fund owns.
Now, there weren't a lot of GME shares when this stock was trading at $5, only around 69 million or so. But now that the stock's gone several thousand percent higher, demand is, well, higher, and with buying restrictions kicking in left and right across popular investing apps, they're that much harder to come by.
There's a frenzied treasure hunt on for GME shares, in other words, and speculators figure they'll just take the ones XRT owned.
If that weren't enough, GameStop is sliding sharply as I write this, down nearly 30% for the day, and that's dragging XRT down, too.
XRT has backed off its Jan. 29 all-time intraday high of $98.50 to trade at $83.50 today.
I think it's going to go even lower.
This is creating a dynamite trade opportunity right now, with XRT acting as a "stand in" for GME, at a fraction of the risk and cost.
You can pull up your trading platform right now and buy an at-the-money (ATM) put, like the XRT March 5, 2021 $83.50 put (XRT210305P00085000) for less than $15 right now, whereas a similar GME put would set you back around $125 - that's if you could manage to trade one.
I'm not sure how the Reddit vs. Wall Street slugfest will end, but I'm pretty sure it won't end with GameStop at $350 a share. "What goes up must come down" is a cliché for a good reason. Same goes for the other newly popular stocks the day trading crowd is into right now; sensible investors should consider those off-limits until further notice.
The safest profits right now will go to investors and traders who can see how the ripple effects from GME, BBBY, and others will move through the markets. XRT is a great example of that.
With all that said, the market's most dangerous stocks aren't necessarily the ones making headlines today. My friend and colleague, Shah Gilani, has a list of 19 companies he thinks are pure poison right now. Even better, he's naming five stocks to consider buying instead. Watch him here...
Follow Money Morning on Facebook and Twitter.
About the Author
Chris Johnson is a highly regarded equity and options analyst who has spent much of his nearly 30-year market career designing and interpreting complex models to help investment firms transform millions of data points into impressive gains for clients.
At heart Chris is a quant - like the "rocket scientists" of investing - with a specialty in applying advanced mathematics like stochastic calculus, linear algebra, differential equations, and statistics to Wall Street's data-rich environment.
He began building his proprietary models in 1998, analyzing about 2,000 records per day. Today, that database, which Chris designed and coded from scratch, analyzes a staggering 700,000 records per day. It's the secret behind his track record.
Chris holds degrees in finance, statistics, and accounting. He worked as a licensed broker for 11 years before taking on the role of Director of Quantitative Analysis at a big-name equity and options research firm for eight years. He recently served as Director of Research of a Cleveland-based investment firm responsible for hundreds of millions in AUM. He is also the Founder/CIO of ETF Advisory Research Partners since 2007, noted for its groundbreaking work in Behavioral Valuation systems. Their research is widely read by leaders in the RIA business.
Chris is ranked in the top 99.3% of financial bloggers and top 98.6% of overall experts by TipRanks, the track record registry of financial analysts dating back to January 2009.
He is a frequent commentator on financial markets for CNBC, Fox, Bloomberg TV, and CBS Radio and has been featured in Barron's, USA Today, Newsweek, and The Wall Street Journal, and numerous books.
Today, Chris is the editor of Night Trader and Penny Hawk. He also contributes to Money Morning as the Quant Analysis Specialist.