Editor's Note: Researchers have recently uncovered the "immortality gene" which could unlock biological immortality in humans. And the profit opportunity for the top pharmaceutical companies in this industry is unprecedented. Continue reading for more on our special coverage of this development…
Investing in pharmaceutical companies can be extremely lucrative. Some of the top pharmaceutical stocks have brought triple-digit gains in the last year alone.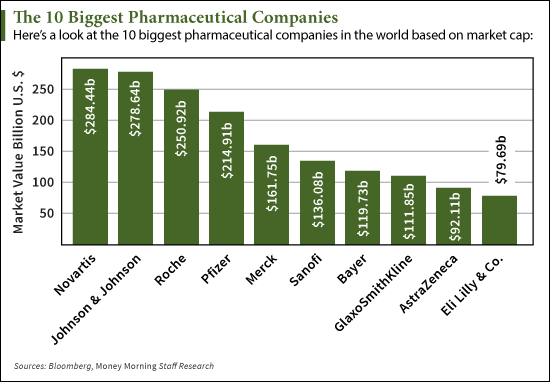 Take Radius Health Inc. (Nasdaq: RDUS) for example. The biopharmaceutical company has seen its stock climb 420% in just the last year.
Agios Pharmaceuticals Inc. (Nasdaq: AGIO) is another example. In the last 12 months, shareholders of AGIO stock have banked profits of 123%. Since the start of 2014, the $4 billion pharma company is up 322%.
With those profits in mind, we've compiled a list of the top 5 pharmaceutical companies to watch in 2015. Here's each company, their huge revenue totals, and their most well-known drugs…
Watch These 5 Pharmaceutical Companies in 2015
Top Pharmaceutical Companies No. 1: Novartis AG (NYSE: NVS)
Novartis, based in Basel, Switzerland, is currently the largest pharmaceutical company in the world based on market cap at $284.4 billion according to Bloomberg.
The company reported sales of $58 billion in 2014 along with net income of $14.6 billion. Earnings per share (EPS) for the full year was $5.23.
The company has a wide range of pharmaceuticals, but its biggest winner in 2014 was Glivec. The cancer drug brought in more than $4.7 billion for the firm. Other drugs Gilenya, Lucentis, and Diovan all brought in roughly $2.4 billion each in 2014.
In the last year, NVS stock is up 22%. In the last five years it has gained 100%. In 2015, look for updates on Novartis' new plaque psoriasis drug Cosentyx, which just received FDA approval.
Top Pharmaceutical Companies No. 2: Johnson and Johnson (NYSE: JNJ)
Johnson and Johnson is a $278.6 billion conglomerate that develops a wide range of products in the healthcare field.
One of its biggest revenue generators is its pharmaceuticals division, which brought in $32.3 billion in 2014. That was 43% of the company's total revenue of $74.3 billion in 2014.
Some of JNJ's biggest new drugs are Olysio and Sovriad, which are used to treat chronic hepatitis C. But the company also sells household name products like Tylenol, Motrin, and Zyrtec.
In the last five years, JNJ stock has gained 55%.
In 2015, investors should will watch for sales figures on the company's two new drugs Invega and Sustenna. Those were both approved in late 2014 for treatment of schizophrenia. Its lymphoma drug Imbruvica was also approved in Europe.
Top Pharmaceutical Companies No. 3: Pfizer Inc. (NYSE: PFE)
Pfizer is best known for its cholesterol drug Lipitor which was first marketed in 1996. The antidepressant Zoloft was another drug that brought the company notoriety when it hit the market in 1991.
PFE is a $214 billion company headquartered in New York, New York. For the full-year 2014, Pfizer had revenue of $49.6 billion. The company's income in 2014 hit $14.5 billion.
In the last year PFE is up 14%. In the last five the stock has climbed more than 109%.
The big thing for investors to watch in 2015 has been the $17 billion purchase of generic drug-maker Hospira Inc. (NYSE: HSP). The company sells generic injectables and biotech knockoffs which should boost Pfizer's revenue of generics.
Top Pharmaceutical Companies No. 4: Merck & Co. Inc. (NYSE: MRK)
Merck is a $161 billion company that develops a variety of prescription medicines, vaccines, and biologic therapies. In 2014, the company reported total revenue of more than $42 billion.
The company's biggest drug is Januvia, a treatment for type 2 diabetes. In 2014, that one drug brought in more than $6 billion for Merck. Another big winner was the cholesterol medicine Zetia, which had sales over $4.1 billion.
In the last five years, MRK stock is up nearly 63%. Since the start of 2013, the stock has gained 42%.
MRK had six different products approved for use in the U.S. in 2014. The company is also working on a hepatitis C treatment named Keytruda that investors will want to keep an eye on in 2015.
Top Pharmaceutical Companies No. 5: Eli Lilly and Co. (NYSE: LLY)
Eli Lilly is an $80 billion pharma company based in Indianapolis. Last year the company had nearly $20 billion in revenue.
The company is best known for the erectile dysfunction drug Cialis and its antidepressant Cymbalta. Those two brought in $2.2 billion and $1.6 billion in sales in 2014.
But its biggest drug is Alimta, which targets lung cancer. In 2014, that drug brought in $2.8 billion in revenue.
In the last year, LLY stock is up 22%. The pharmaceutical company has seen its stock climb 105% in the last five years.
LLY recently had its cancer drug Cyramza approved by the FDA and the European Commission. The drug is used to treat lung cancer, and will be closely watched by investors in 2015.
And while those pharmaceutical companies should be on every investor's radar in 2015, there is another group of big pharma companies that offer even better investment opportunities…
Getting in right now could deliver not 2 times … not 5 times … but as much as 12 times your money.
Continue here find out how to get "Unlocking the Immortality Gene," our in-depth report on an unprecedented new treatment and the pharmaceutical companies behind it…