On May 3, we talked about a "Trump-proof" way to play China's exploding social media and e-commerce markets. That stock's already up a market-crushing 8%.
Well, I think the next global tech-trend play I've got to tell you about could do even better.
It's one of the "frontier" investment opportunities I've been so bullish on this year.
You can buy the company right here at home, but I think it's going to triple thanks to events taking place right now in one of the world's hottest markets: India.
Every Investor Should Tap This Growth
With 1.3 billion residents, India is the globe's second-most-populous nation. And it could surpass China in as little as five years.
India logged 7% GDP growth in 2016's fourth quarter. That beat forecasts by 10%. Even if that were to slow by as much as 20%, India's economy would still be expanding twice as fast as that of the United States – but economists are predicting 7.2% growth in 2017.
In just the past decade, India's $2.2 trillion economy has leaped past Italy, Brazil, Canada, South Korea, and Russia. That means it's now the globe's seventh-largest economy – and it could move up to fifth place by 2020.
It just hit the top of a list of 30 developing economies for ease of doing business.
That kind of growth makes India one of the most enticing frontier investing markets today, a place where we can enjoy and profit from that "first-mover advantage" I've talked about. And we know high tech – a massive driver of wealth all over the world – is set to play a central role in this massive opportunity.
While India has a rich history of economic and business growth, it's equally well-known for its "threat landscape." Corruption, crime, political instability, and terrorism all scare away many investors.
That's why I've searched high and low for a way to get in on India's ferocious tech growth – a way to get on the "sadak" to wealth – without exposing ourselves to those sorts of risks.
But that still offers hope of quick triple-digit gains.
And I've finally found it…
The "Digital India" Plan Could Be a License to Print Money
India signaled a major push into high tech when Prime Minister Narendra Modi visited the United States in 2015, the first such trip by an Indian head of state in three decades.
He visited Silicon Valley to talk about his Digital India plan, which he said was an "enterprise for transformation, unmatched in human history."
Since then, India has moved quickly to digitize its entire $2.2 trillion economy, which is starting to have a colossal impact on the global tech sector.
It hasn't been easy. Modi's push to remove currency from circulation, to clamp down on the black market, and to streamline government agencies brought a lot of pushback.
But his mission continues to be mostly successful, no mean feat in a 5,000-year-old nation that has long resisted major change.
You could see triple-digit gains before 2020.
Every citizen is now part of a national database, and they use their IDs in all their interactions with the federal government. Mountains of paperwork are disappearing as India provides a higher quality of services at lower costs.
Modi outlined the three pillars of his plan…
A sharp increase in the country's digital literacy, especially in rural areas
The buildout of super-fast web connections
And a big push to create jobs in hardware, software, and tech services
The Digital India efforts have lured in major spending from Silicon Valley. The list of companies reads like a "Who's Who" of innovators – a tech investor's high-profit dream.
But this is very real.
Alphabet Inc. (Nasdaq: GOOGL) is rolling out Wi-Fi access in 500 train stations. Microsoft Corp. (Nasdaq: MSFT) is making India a key hub for its global cloud-computing platform.
Qualcomm Inc. (Nasdaq: QCOM) is investing $150 million in Indian tech startups. And Facebook Inc. (Nasdaq: FB) already counts India as its second-largest market.
But no major tech firm is placing as large a wager on Digital India as Amazon.com Inc. (Nasdaq: AMZN).
It's easy to see why once you understand this…
This Is the World's Fastest-Growing E-Commerce Market
India needs to make up for lost time. In 2016, its e-commerce sector racked up just $30 billion in online sales, according to Barclays. That's well below the $718 billion take in China.
But Amazon CEO Jeff Bezos sees a chance for India to match China's growth. Barclays predicts Indian e-commerce will grow 21% each year through 2020, reaching $66 billion – and that it will keep growing at a double-digit pace in the next decade as well.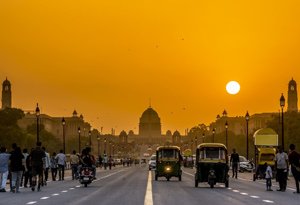 Much of this growth will come from a surging embrace of the smartphone. India now counts 250 million smartphones in use and 375 million people online. Those figures are expected to double by 2021, according to Barclays.
Amazon is ready for that surge. It has pushed to triple the number of products to buy on its Indian site in just the past 18 months. You can now buy 80 million items from 120,000 distinct third-party sellers.
E-commerce comes at the right time for India. The nation has yet to develop a large-scale retail infrastructure. For many consumers in second- and third-tier cities and villages, online shipping enables them to skip traveling vast distances to buy needed household goods. It allows them to enter middle-class consumer culture – without a Target or Wal-Mart in town or, indeed, within hundreds of miles.
As an added lure, Amazon's prices tend to be 10% to 15% lower, even after accounting for shipping, than India's inefficient bricks-and-mortar stores.
India's "Great Opening-Up"
Until 1991, the country's economy was almost as closed-off and tightly controlled as the old Soviet Union's; they even had "Five-Year Plans." Even after liberalizing reforms, doing business in India was quite a challenge thanks to severe foreign-ownership restrictions.
But the slow pace of liberalization has been sped up in a big way.
And in March 2016, the Indian government allowed for 100% foreign investment for e-commerce businesses operating as marketplaces domestically.
With those new laws in place, Amazon is moving quickly to build out a national footprint. It now operates 25 massive fulfillment centers, 170 distribution centers, and four delivery stations in India.
Its newly beefed-up footprint means Amazon can deliver same-day by ground to the huge cities that generate roughly 70% of India's GDP. Not bad for a firm that had zero presence in India just four years ago.
Getting goods to the other parts of the country is more of a challenge. So Team Bezos has built an Amazon Transportations Services network in India, with last-mile delivery using vans, motorcycles, and scooters to get packages directly to customers. And customers can pick up their packages in centrally located lockers via a program called Kirana Now.
The firm has even seen great success with the July 2016 launch of Amazon Prime in India.
As I said, Bezos is using every tool in his arsenal to ensure dominance in this fast-growing market.
With a $481 billion market cap, Amazon trades at roughly $1,010 a share. Over the past year, it has soared 39.5%, three times the growth of the S&P 500 over the period.
With share-price gains like that – and an unprecedented ground game in a profit center like India – you could see triple-digit gains before 2020.
Amazon truly offers a great way to ride this "frontier's" explosive growth to long-term market-crushing returns.
I'm talking about the sort of gains you'll one day be able to spoil your grandkids with.
A Pot "Bombshell" Just Hit Canada: For our neighbors to the north, it's shocking news. But it could be the best news of all time for marijuana stock investors. In fact, this single "bombshell" event could unleash a new pot stock boom that will blow the doors off anything we've seen up to this point. And by putting a couple of hundred bucks into a handful of tiny Canadian weed companies, you could pocket life-changing gains – turning a few hundred bucks into a fortune overnight. Watch this now to get all the details…
The post 66 Billion Reasons to Invest in India – Right Now appeared first on Strategic Tech Investor.
Join the conversation. Click here to jump to comments…
About the Author
Michael A. Robinson is one of the top financial analysts working today. His book "Overdrawn: The Bailout of American Savings" was a prescient look at the anatomy of the nation's S&L crisis, long before the word "bailout" became part of our daily lexicon. He's a Pulitzer Prize-nominated writer and reporter, lauded by the Columbia Journalism Review for his aggressive style. His 30-year track record as a leading tech analyst has garnered him rave reviews, too. Today he is the editor of the monthly tech investing newsletter Nova-X Report as well as Radical Technology Profits, where he covers truly radical technologies – ones that have the power to sweep across the globe and change the very fabric of our lives – and profit opportunities they give rise to. He also explores "what's next" in the tech investing world at Strategic Tech Investor.