The solar industry was worth $86 billion in 2015, but its value is expected to grow 391% to $422 billion by 2022. That means one of the best solar stocks to buy in 2019 will get a huge boost over the next couple of years.
And to help you get a slice of that growth, we're giving you the best solar stock to buy today.
We found this one through the Money Morning Stock VQScore™ system. Our proprietary VQScore system picks the stocks most poised for breakout profits.
The VQScore system rates stocks based on earnings power and growth potential. Our pick has a perfect score, and it's a rising star in the solar industry.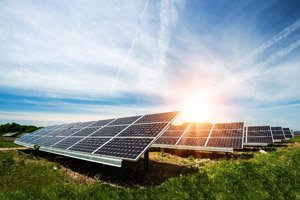 Because solar is so hot, the best solar stocks are still likely to skyrocket no matter what the other markets do.
Part of the reason solar is such a booming sector has to do with environmental concerns. Fossil fuels like coal, oil, and gas cause carbon emissions, which contribute to greenhouse gases.
Clean energy solutions such as solar, wind, and biomass don't burn fossil fuels or cause carbon emissions. As more countries move to burn clean energy instead of fossil fuels, solar will get a big boost.
But it's also about the cost. Solar technology is getting cheaper every day. The cheaper it becomes in relation to coal, oil, and gas, the more consumers will adopt it as a primary source of energy.
The Solar Energy Industries Association recently reported that installations of solar energy in the United States have reached 2 million. By the time 2024 rolls around, that's expected to rise to 4 million.
This trend is driving solar stocks far beyond average market performance.
5G Is Coming: The Tech Breakthrough of the Century Could Rest on This $6 Stock - Get All the Details Here.
In January, we said Vivint Solar Inc. (NASDAQ: VSLR) was a solar stock to watch. Since then, it's risen 47%, outpacing the market tremendously - the S&P 500 advanced only 12% in that same time.
But don't think you've missed the boat on solar just from missing these gains. Solar installations are expected to rise 100% over the next five years, so there's still plenty of time to profit from this industry.
In fact, this week, the VQScore is screaming "Buy" on this one stock. It has a perfect VQScore of 4.75, meaning it's very close to soaring in price.
Here's one of the top solar stocks to buy in 2019.
Our Pick for One of the Best Solar Stocks to Buy in 2019