By now most investors know that they can make a lot of money if they own a stock President Trump likes. But what they don't know is that they could make even more money when he "hates" one.
Like he "hates" the company I want to tell you about today.
The Last Time We Saw This Pattern, You Could Have Grabbed 1,180%
Quick…
What was the one sector that created more millionaires under President Obama than any other?
Many investors think it's renewable energy thanks to the tens of billions of dollars in stimulus the president sent that direction. It's not for nothing that energy-heavy investments like Brookfield Renewable Partners LP (NYSE: BEP) returned 170% during Obama's tenure.
Others will tell you that it's got to be health insurers thanks to Obamacare. That's a good guess considering companies like United Health Group Inc. (NYSE: UNH) turned every $10,000 invested into $80,600 under his administration for a jaw-dropping 706% return.
But the real answer may take you by surprise.
President Obama hated guns with a passion and seemingly went out of his way to cripple the industry. Yet, gun-related companies like American Outdoors Brand Corp. (Nasdaq: SWHC) – formerly Smith & Wesson – shot up more than 1,100% during his time in office.
Now, we're seeing the same story unfold – just with a new president and a new company.
Never one to mince words, President Trump has made it very clear that he cannot stand his coverage by The New York Times Co. (NYSE: NYT).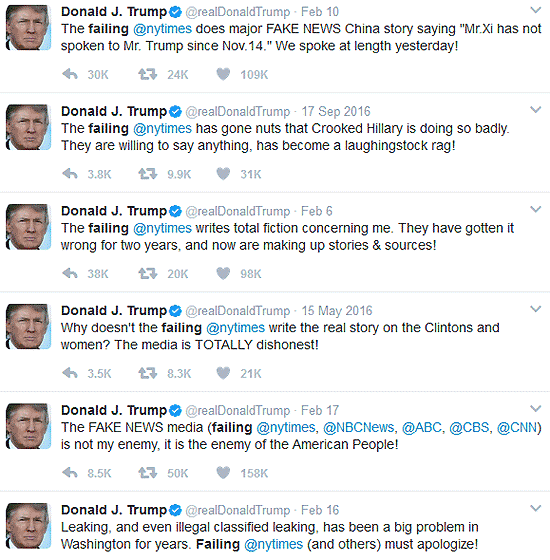 And legions of Trump-haters have responded accordingly… by signing up!
Just as President Obama prompted a run on gun sales, President Trump is inadvertently creating a subscription boom that defies the imagination.
Profitably.
When Legions of Liberals Hit "Subscribe"
This is counterintuitive, but every time President Trump lashes out at The New York Times, hundreds if not thousands of anti-Trumpers hit "subscribe" as a personal act of defiance.
For example, The New York Times added 41,000 subscribers to its print and digital platforms in under a week following his election. And the paper's numbers are accelerating with each new diatribe.
The company's CEO, Mark Thompson, is crystal clear on the benefit that progressive contempt for Trump can have on The New York Times – so much so that he couldn't help but wrap the anti-Trump mantle around his paper when he had this to say during the company's most recent earnings conference:
President Trump was once again busy tweeting this weekend that our audiences and our subscribers were, to use his word, "dwindling."

Well, not so much, Mr. President. We had spectacular audiences in the quarter, with 220 million unique users coming to us in November, for example. And, as for subscribers, in Q4 we added 276,000 net new digital subscriptions to our news product. For comparisons, that's more net new subscriptions in one quarter than we added in the whole of 2013 and 2014 combined." [my …
Join the conversation. Click here to jump to comments…
About the Author
Keith Fitz-Gerald has been the Chief Investment Strategist for the Money Morning team since 2007. He's a seasoned market analyst with decades of experience, and a highly accurate track record. Keith regularly travels the world in search of investment opportunities others don't yet see or understand. In addition to heading The Money Map Report, Keith runs High Velocity Profits, which aims to get in, target gains, and get out clean, and he's also the founding editor of Straight Line Profits, a service devoted to revealing the "dark side" of Wall Street... In his weekly Total Wealth, Keith has broken down his 30-plus years of success into three parts: Trends, Risk Assessment, and Tactics – meaning the exact techniques for making money. Sign up is free at totalwealthresearch.com.