For years, I have worked with the U.S. Department of State, providing advice to developing countries on oil and natural gas issues. Our work together goes back some 46 years.
It began during the Vietnam War, when I was recruited into a division of State's Bureau of Intelligence and Research (INR), initially involving insertion into the Southeast Asian theater of operations as a field counterintelligence officer.
A great deal of the work I did, and the losses I and others suffered, remain classified to this very day, but suffice it to say that deployment earned me the first of my three Presidential Intelligence Awards – and launched more than two decades of active service in the intelligence community.
However, much of my more recent work has involved matters related to the geopolitics of energy, certainly one of the most complicated and potentially explosive issues our world faces today.
As a result, I have traveled to a number of countries over the years to work with officials on establishing energy policies and practices.
It's one of the reasons I had to return to Vietnam after so much time, to close some of the loops of my past – and to help ensure energy's future swings in America's direction…
Why America Is Growing Closer to Vietnam
About two years ago – around 20 years after the 1995 "normalization" of relations between the United States and the Socialist Republic of Vietnam – the State Department requested that I return to Vietnam to provide support to their oil and gas policy planning process.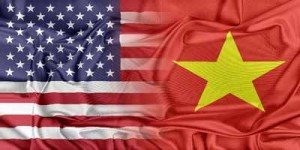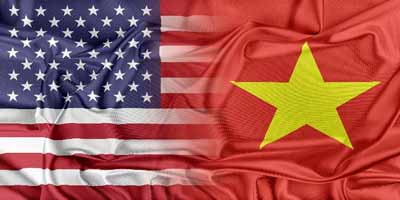 It was the first time I'd gone back since the war, and the prospect has brought back memories.
There has been a near 180° shift in American attitudes about Vietnam. Vietnam has been undergoing profound shifts of its own since 1986, with a far-reaching program of market reforms they called "Đổi Mới," or, loosely translated, "Renovation."
You see, our onetime adversary is blending communist and capitalist structures to effect huge changes to its economy. It has been a very effective hybrid (and certainly one of the stranger manifestations in recent memory).
Had anybody 40 years ago suggested we would be in any kind of alliance with the Vietnamese on anything, I would have thought it pure literary fiction.
Of course, there are still some lingering ideological differences and issues between the two Cold War-era enemies, but the two countries have some very compelling interests in common.
In general, Washington had opted to support Hanoi in its ongoing disagreements with China over offshore drilling rights in the powder keg of the South China Sea.
But that assistance initiative has stalled more recently. The view (to say nothing of the plans) of the new Trump administration on the Vietnamese project remains unknown.
Yet even before the November 2016 U.S. election, the project has been opposed by Chinese "actions" in the region.
These actions have intensified the situation, to put it mildly.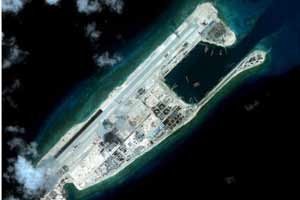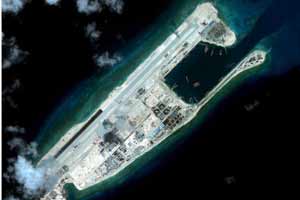 Intelligence reports released over the weekend and again on Tuesday indicate China is nearing completion of three manmade islands, like Fiery Cross Reef, which you see on the left.
Any one of these structures could soon serve as a potential base for the powerful new weapon the Chinese are calling "sha shou jian." I've seen dramatic video of this weapon in action (as every American should) and it's enough to say that U.S. Pacific Fleet has cause to be concerned.
In general, though, these new islands provide "platforms" for achieving three of China's strategic and tactical aims:
To provide bases for military aircraft to hit targets throughout most of the contested basin,
To support Beijing's expansion of its own energy interests,
And bring pressure to bear on very important sea lanes and ocean transit routes.
It's hard to overemphasize the importance of this region for trade, especially energy – fully one-third of global crude oil, and more than 50% of the world's liquefied natural gas (LNG), pass through the South China Sea each year.
And just when affairs seem to be reaching the point of maximum tension, a longtime U.S. rival has entered the already complicated picture to throw a wrench in the plans of diplomats, soldiers, and energy investors alike.
Guess Who's Coming to Dinner
Russia…
Moscow is threatening to become a fully engaged player in the crisis. They are seeking a foothold in tomorrow's oil and gas hotspot – that could become today's battlefield unless we're very careful.
I have discussed aspects of this crisis and its impact in my Oil & Energy Investor newsletter, and I've made profit recommendations for capitalizing on these events in my Energy Advantage and Energy Inner Circle services.
The latest Russian involvement, however, results in a whole new set of unknowns…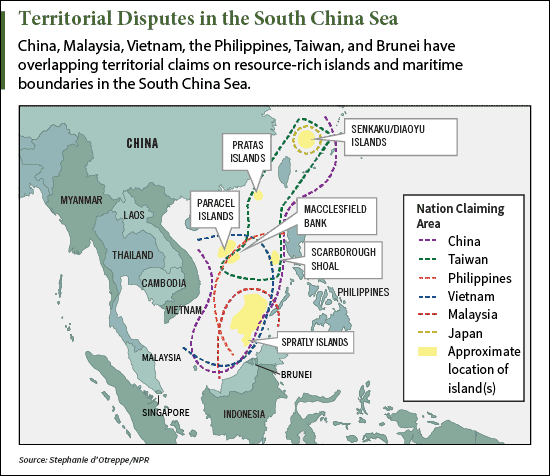 It's hardly a mystery that the Kremlin has shown an interest in South China Sea developments. Asia has become a major emphasis in the Russian drive to sell more domestically produced oil and natural gas.
With its central budget remaining dependent on export proceeds from hydrocarbon sales, and that budget further requiring that Russia sell increasing amounts into the international market, Asia is the focus.
You've seen me say many times that all projections indicate that the bulk of energy needs worldwide will be shifting to Asia at least through 2035.
Major pipeline projects to China have clearly signaled Russian intentions to compete in the region. The completion of the East Siberia-Pacific Ocean (ESPO) network has opened up a major port facility from which rising oil exports are flowing to Asia.
But when it comes to oil, Moscow is not only relying on trade. In the South China Sea controversy, they have their own local production base…
Russia's Relationship with Vietnam Goes Back Decades
Its name is Vietsovpetro. This is a well-established joint venture between Russian state-controlled production company JSC Zarubezhneft and Vietnam's state company, PetroVietnam.
And when it comes to American policy in Vietnam, this is fast becoming a real impediment. At the same time, it's a significant source of leverage for Russia in South China Sea operations and gives it the ability to stymie U.S. initiatives there.
As the "sov" in its name indicates, Vietsovpetro has been around since Soviet times. It comprised one of the main economic connections between Moscow and Hanoi following the American departure from Vietnam in 1975.
In fact, Zarubezhneft was established to pursue those ties.
For years, the company operated only on continental shelves offshore other countries, primarily Vietnam. It was only when the Kremlin decided several years ago to prioritize developing its own offshore shelf that Zarubezhneft started working in Russia proper.
Then, Russia needed to attract outside investment for such an expensive undertaking. It still does today. Yet the Kremlin didn't want to lose control over the projects emerging. What emerged was the requirement that projects be controlled by Russian state-run companies having at least five years of experience in shelf production.
The list was short – Rosneft Oil Co. (OTCMKTS: RNFTF), natural gas giant Gazprom PAO (OTCMKTS ADR: OGZPY), along with its oil wing Gazprom Neft, and of course Zarubezhneft.
However, the last also needed experience inside Russia to qualify. So – surprise! – it was quickly awarded domestic field leases. The company brought in PetroVietnam as a partner.
And this brings us to some of the ways we can limit, or "contain," to use the old parlance of the Cold War, China's moves in the region.
That is, if we want to…
America Is Losing a Massive Opportunity Here
"Offshore" Vietnam has emerged as a lynchpin in any attempt to thwart Chinese expansion in the South China Sea. Vietsovpetro has clearly demonstrated the size of offshore oil and gas fields. Several have been operating for years and the volume extracted remains significant.
And there have been other limits on Chinese expansion in the South China Sea…
Both BP Plc. (NYSE: BP) and Exxon Mobil Corp. (NYSE: XOM) had been working in the area. But BP was forced to sell its interests when the company was setting up a legal war chest in the aftermath of the Deep Horizon disaster in the Gulf of Mexico.
Thrusting Exxon Mobil into the primary fallback position may seem like a possibility, given the new U.S. Secretary of State, Rex Tillerson, is the former CEO of the company.
But in reality, however, that makes the policy more difficult.
China's expansion must be offset by local national policy, not by international oil companies or foreign governments.
Washington can certainly assist, but, here at least, it cannot lead.
Bringing us back to my "holding pattern" on the State Department liaison plan with Hanoi.
At the moment, Vietsovpetro is the established bulwark against the Chinese in the western South China Sea.
Now, I also have considerable experience working in the Soviet Union before the January 1992 breakup of the USSR, and in Russia after that.
But in the current climate, it's difficult to see any cooperation between Washington and Moscow.
It seems possible, maybe even likely, that narrower national interests will instead prevail, with Russian policy moving to another détente with China and dividing up of the region.
That would represent something of a missed chance and a foreign policy defeat for Washington, in a region where we can least afford it. If the simmering tension boils over and becomes violent, our forces will of course have to contend with that alarming Chinese superweapon I mentioned.
In that event, we'll have to fall back on a small, $6 company that insiders are saying is the government's "ace in the hole" in any fight in the South China Sea.
Join the conversation. Click here to jump to comments…
About the Author
Dr. Kent Moors is an internationally recognized expert in oil and natural gas policy, risk assessment, and emerging market economic development. He serves as an advisor to many U.S. governors and foreign governments. Kent details his latest global travels in his free Oil & Energy Investor e-letter. He makes specific investment recommendations in his newsletter, the Energy Advantage. For more active investors, he issues shorter-term trades in his Energy Inner Circle.