Crude Oil
Article Index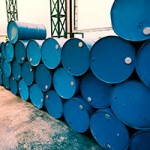 The City of London is hands-down the most important energy financing command center on Earth. More money for oil and gas projects is raised within a three-mile radius of Liverpool Street station than anywhere else in the world.
Naturally, this part of town is packed to the rafters with some of energy's most influential and important "money men" and women.
When I was at the Palace of Westminster for a closed-door energy briefing at the House of Lords, these financiers were absolutely electrified by one recent development.
It won't be long before these players are going to make a lot of money on this, and we'll have our chance, too...