By MONEY MORNING NEWS TEAM, Money Morning • August 8, 2018
---
Urgent Update from Michael Robinson: Right now, the U.S., Russia, and China are battling for control over a new technology so powerful it will instantly reorder the global balance of power. For the U.S., securing this technology is critical and urgent. In fact, Secretary of Defense James Mattis says developing it is America's number one priority. Get more details now.
---
Dear Reader,
There's no denying the tremendous profit potential of stocks in the tech sector, even as the broader stock market is slow.
The SPDR Select Tech Sector ETF (NYSE Arca: XLK) is up double the S&P 500 on the year.
Today, we're going to cut through the noise and show the best tech stock to buy in August 2018.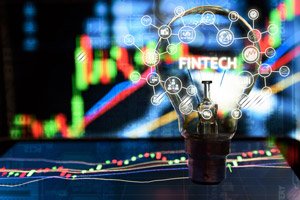 And while you already know about tech stocks like Amazon.com Inc. (Nasdaq: AMZN) and Facebook Inc. (Nasdaq: FB), there are even more explosive profit opportunities in the tech stock market.
One of the best opportunities comes from this little-known, but growing subsector of the tech industry…
Fintech Is a Quiet Star in Tech
Financial Technology, or fintech, refers to the technology behind every transaction made by any person, business, or country in the financial system.
The global economy is worth $70 trillion, and fintech is an indispensable part of making the transactions undergirding it work.
As Money Morning Defense and Tech Specialist Michael A. Robinson points out, transactions are involved everywhere, but they are crucial for e-commerce. While some transactions can still happen using cash, using a computer of phone to buy a product or send money to a relative is impossible without technology.
Revealed: We just uncovered raw footage of a mind-blowing and highly classified, new weapon technology secretly being developed by the U.S. And the Pentagon is spending billions – soon to be trillions – to ramp up production. Click here to learn more now.
Crunchbase reports startups in the fintech space have received over $15.6 billion in venture capital funding. In fact, Crunchbase says 136 venture capital deals were made in the first quarter of 2018 alone.
But startups aren't the only players in this increasingly lucrative space.
Banks and other financial institutions are buying fintech companies and integrating them to gain the value of digital and other transactions.
In fact, TNW's online tracker index reports that there were at least 30 mergers in fintech in the last half-year.
And we've identified the one stock you need to own in this lucrative space.
It's both an experienced, veteran company of the space and a new-age pioneer.
Plus, it just bought one of the hottest companies in the industry…
The Best Fintech Stock on the Market
PayPal Holdings Inc. (Nasdaq: PYPL) is our top fintech play.
It's a technology platform for processing and completing digital payments and has been one of the leaders since it was created in 2002.
People and businesses use PayPal to buy and sell goods and services both online and through apps.
It was the method that users of eBay Inc. (Nasdaq: EBAY) used for transactions. As a result, eBay purchased PayPal in 2002, shortly after it had an initial public offering.
In 2015, Carl Icahn began to pressure eBay to spin off PayPal, which it did, launching a publicly traded PayPal once again.
And that's been a great change for the company.
In the past three years, the share price has risen more than 163%, to the current price of $91.46. But that's just the beginning for this stock.
Earnings per share in the last three years have risen approximately 21%. And earnings are climbing 16% more than sales are, a sign that cash flow is getting better. PayPal has over $12 billion in cash.
That's great news because PYPL is pursuing an aggressive acquisitions policy that will increase sales and profits going forward.
In 2014, it purchased Venmo, a new and increasingly popular mobile-payment company.
Mobile payments have been steadily rising in popularity, especially among younger people. That makes Venmo a play in grabbing clients who could be using Venmo for years to come.
PayPal also paid approximately $2.2 billion to purchase iZettle, a startup based in Sweden. Then it grabbed Hyperwallet, a payment-services company with worldwide reach, for $400 million.
On top of that, PayPal is doubling down on cybersecurity. It bought Simility Inc., a premier tech platform engaged in risk management and fraud prevention, paying $120 million.
PayPal isn't a startup anymore – it's a global player willing to flex its muscles to take on more market share.
Robinson expects the stock to rise by triple digits going forward.
This Tiny Company Is Expected to See a 3,877% Revenue Explosion
Right now, the U.S., Russia, and China are locked in a tight battle for control over a new technology that's so powerful, it will instantly reorder the global balance of power.
And for the U.S., securing this technology is URGENT.
Secretary of Defense James Mattis says developing it is America's NUMBER ONE PRIORITY.
And Congress just authorized a 136% spending increase for this technology alone.
The term "game changer" doesn't even begin to cover the scope of this innovation.
Which is why I'm reaching out to you today…
Our research has uncovered a small Alabama-based company with an invention essential to the future of this breakthrough.
Right now they hold the keys to an estimated $67.6 billion in potential contracts – which could mean their revenue multiplies by 3,877%.