China's stock market plunged 6.2% Tuesday amid new fears about Beijing's commitment to steadying equities.
The Shanghai Composite Index closed at 3,748.16 today as selling accelerating into the close. That marks a 27% decline from its June peak. Tuesday's 6.2% descent was the sharpest drop since an 8.5% decline on July 27. That was Shanghai's biggest daily decline in eight years.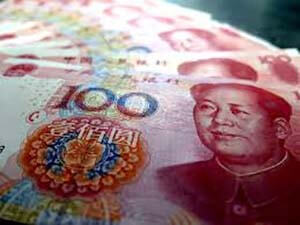 The smaller Shenzhen Composite Index fell 6.6% Tuesday to 2,174.42. Hong Kong shares slipped 1.4%, turning negative for the year.
Roughly 58% of stocks listed in Shanghai hit their downward daily limit of 10%. That represented more than 1,000 securities. Some 52% of all Shenzhen-listed shares met the same barrier, according to FactSet.
There was no clear facilitator for Tuesday's swoon, but fear of further yuan devaluation was the likely culprit. Last week, China's central bank unexpectedly devalued its tightly regulated currency. The goal was to jumpstart China's slowing economy by giving a boost to the country's exports.
"We think there is a reason to believe that the Chinese renminbi (yuan) devaluation isn't over," Ben Gutteridge, head of fund research at Brewin Dolphin, told CNBC Tuesday. "There could be more moves there."
Kamakshya Trivedi, chief emerging market macro strategist at Goldman Sachs, shared the same sentiment. He told CNBC Tuesday that another devaluation is likely in the "medium term."
The People's Bank of China's 4% currency devaluation last week not only sent stocks across the globe tumbling, it also sparked fears of a currency war.
Worries are also rising that China's economic health isn't as vigorous as reported. Concerns are mounting that China will have trouble hitting its annual growth rate target of 7% for 2015. The world's second-largest economy has been experiencing an economic slowdown for the last four years.
For more than 30 years through 2011, China grew at an average annual rate of 10.2%. That was a record unmatched by any major nation since at least World War II. However, the run is clearly over.
Money Morning Technical Trading Specialist D.R. Barton made his regular appearance on FOX Business today and discussed the trickle-down effect China's stock market woes are having on the United States...
Stay informed on what's going on in the markets by following us on Twitter 
@moneymorning
.
China Targets the Gold Market: The Chinese government has a multi-pronged strategy to strengthen the Asian giant's economy. After years of playing second fiddle in the gold market to the Western economic powers in Europe and the United States, China is making moves toward a more influential role. Here's how China plans to dominate the world gold market...
Related Articles: