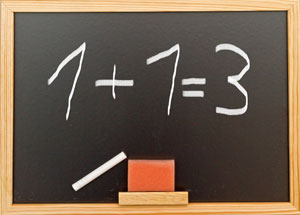 The government's official unemployment rate is "a Big Lie," according to Jim Clifton, the CEO of 80-year old analytics firm Gallup.
In a Feb. 3 op-ed, Clifton slammed the White House, Wall Street, and the media for celebrating about how unemployment is "down" to 5.7%.
"Here's something that many Americans - including some of the smartest and most educated among us - don't know: The official unemployment rate, as reported by the U.S. Department of Labor, is extremely misleading," Clifton wrote. "There's no other way to say this. The official unemployment rate, which cruelly overlooks the suffering of the long-term and often permanently unemployed as well as the depressingly underemployed, amounts to a Big Lie."
Of course, here at Money Morning, we've called the "official" unemployment numbers cooked all along. Just take a look at a few of our headlines over the years: "Take a Closer Look Before Cheering the November U.S. Jobs Report," written Dec. 7, 2012; "The 'Part Time-ification' of America: How We've Been Conned Again," written Aug. 8, 2013; "January Jobs Report: Even the Cooked Numbers are Bad," written Feb. 7, 2014; and most recently, "The Mirage of Job Gains and Wage Growth," written Feb. 6, 2015.
It's a good thing that Clifton is onboard with us - the more the merrier.
We want Americans to know there's a reason why they haven't "felt the recovery..."
Why the Official Unemployment Rate Doesn't Add Up
The most-recent, January jobs report seemed like good news.
The U.S. Labor Department said 257,000 jobs were added to the economy. That easily beat the 230,000 number analysts had expected.
And yet the unemployment rate ticked up to 5.7% from 5.6%.
Clifton correctly outlined the reasons for these conflicting numbers in his op-ed. They are the same reasons Americans haven't "felt the recovery."
First, there are those people who have simply stopped looking.
"If you, a family member, or anyone is unemployed and has subsequently given up on finding a job - if you are so hopelessly out of work that you've stopped looking over the past four weeks - the Department of Labor doesn't count you as unemployed," Clifton wrote. "That's right. While you are as unemployed as one can possibly be, and tragically may never find work again, you are not counted in the figure we see relentlessly in the news - currently [5.7%]. Right now, as many as 30 million Americans are either out of work or severely underemployed. Trust me, the vast majority of them aren't throwing parties to toast 'falling' unemployment."
Second, the government uses part-time work - no matter how few hours - to selectively toss out unfavorable jobs data.
"Say you're an out-of-work engineer or healthcare worker or construction worker or retail manager: If you perform a minimum of one hour of work in a week and are paid at least $20 - maybe someone pays you to mow their lawn - you're not officially counted as unemployed in the much-reported 5.6%. Few Americans know this."
And the third reason the numbers don't add up may be the one you, via personal experience or from watching friends and family, are the most familiar with: underemployment.
"If you have a degree in chemistry or math and are working 10 hours part time because it is all you can find - in other words, you are severely underemployed - the government doesn't count you in the 5.6%. Few Americans know this."
According to Clifton, Gallup has the real unemployment rate - the one that the government hasn't applied numeric tricks to - far off from the "official" 5.7%...