Money Morning Resource Specialist Peter Krauth predicts gold prices could climb as high as $1,500 by the end of 2018, roughly 14% above current levels.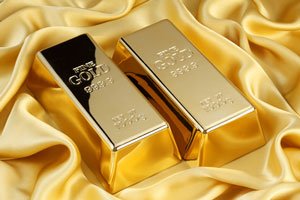 Because of our bullish outlook, Money Morning readers have been asking us, "What is the best gold ETF to buy in 2018?"
We're going to show you the best gold ETF to invest in this year in just a bit.
But first, here's why we are so bullish on the precious metal in 2018…
Why Gold Prices Could Climb 14% in 2018
The 2017 bull market for stocks has caused gold to be relatively overlooked. The Dow Jones Industrial Average climbed 24.85% over the past year.
But trends in inflation and interest rates are going to make gold one of the best investments of 2018.
Inflation has now reached its second-highest rate in the last five years, at 1.6%.
As inflation climbs, the purchasing power of the dollar falls. The U.S. Federal Reserve is supposed to keep inflation tamped down. One of its tools to do that is raising interest rates, particularly when the stock market soars.
Video
Here's Exactly Why Gold Will Soar in 2018
But when inflation rises as it has been, investors get nervous…
Anxious investors move money out of the stock market and into gold if inflation heats up because gold is traditionally a hedge against inflation. That's because gold's value rises as the dollar's weakens.
And gold is also a hedge against global crises, such as threats of nuclear war between the United States and North Korea, which create uncertainty in global markets.
Urgent: Executive Editor Bill Patalon just saw something on his precious metals charts he's only seen twice in 20 years. He calls it the "Halley's Comet of investing" – and it could lead to windfall profits. Read more…
There are plenty of other global events creating uncertainty in 2018 too.
Investors are closely following how Brexit will play out to the spikes of violence in Syria, all of which create instability and uncertainty, and boost the value of gold.
That's why ahead of gold prices climbing in 2018, now is the perfect time to own the best gold ETF of 2018…
Here's the Best Gold ETF to Buy in 2018