The price of gold finished last week with a fifth-straight weekly gain. But after reaching $1,334.90 on July 1 - the highest level since March 24 - gold prices have been dropping due to Thursday's release of strong jobs data.
Gold for August delivery dropped 0.5% this morning (Monday) to $1,314.30 an ounce on the Comex in New York. Spot gold was down 0.5% to $1,313.40 an ounce.
"[We're seeing] the good jobs data [being weighed] against the major problems in the Middle East," Afshin Nabavi, head of trading at MKS, said to Reuters. "That's why I think the FOMC [meeting minutes release] this week ought to be more important than the ones in the past."
The price of gold fell on its last trading day, Thursday, after stronger-than-expected jobs data showed that the U.S. economy added another 288,000 jobs in June. Also weighing on the precious metal was a drop in the official unemployment rate to 6.1% - its lowest level since September 2008 - and the Dow Jones breaking through 17,000 points to set a new high.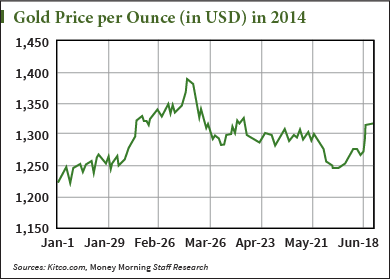 On the Comex exchange in New York, gold futures for August delivery dropped to $1,320.40 an ounce, a $10.50 (0.8%) loss. Spot gold fell by $7.60 to $1,320.25 an ounce. The London P.M. gold fix was $1,317.50, compared to the last session's $1,322.50.
The drop in gold futures was the most in five weeks. June saw gold prices rise by nearly 7%.
Despite today's decline, the price of gold has upward pressure right now that speaks to a rally in coming months, similar to what we saw in June.
Here's what's going to make the price of gold climb in the latter half of 2014...
Iraq Will Drive Up the Price of Gold
The Islamic State of Iraq and Syria (ISIS) continued its onslaught in the northern part of Iraq this week. Ongoing tensions threaten to destabilize oil prices.
In response, U.S. President Barack Obama recently announced the deployment of 300 military advisers to provide assistance to anti-ISIS forces. Their role, however, is to act as consultants as opposed to on-the-ground, fighting military operatives. It's likely that their efforts will not abate the escalating violence.
In addition to the warring factions in Iraq, political tensions add to the mix. Iraqi Prime Minister Nouri al-Maliki, a Shiite, has made no effort to forge an alliance with the Sunnis in that region. This has resulted in further political tensions that stem from the centuries-old dogmatic conflict between competing Muslim ideologies.
Iraq has been "a background factor that's helping to elevate gold," according to Brien Lundin, editor of Gold Newsletter.
Geopolitical tension abroad isn't the only upward pressure gold on gold. Domestic forces are also shaping the yellow metal's price...
Price of Gold Up on Federal Reserve Policy
Last week, U.S.
Federal Reserve Chairwoman Janet Yellen
said
that short-term interest rates would hold steady for a little while longer. She also said that recent inflation data were "noisy," further indicating to investors that there is no rate hike planned in the near future.
This is good news for people who are long on gold. The precious metal is seen as an alternative investment option in a financial environment with low interest rates.
The Value of the Dollar Another Factor Driving Up the Price of Gold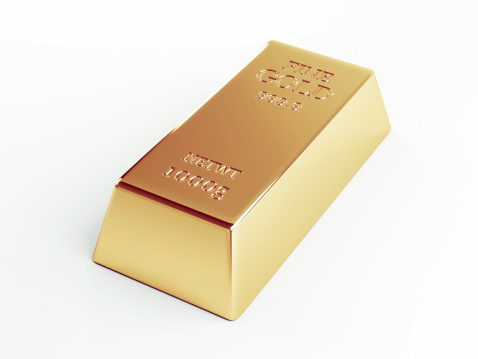 The dollar has also recently taken a hit, contributing to June's gold price increase and also future months' gains.
As the value of the dollar decreases, the value of gold increases. That's because it takes more dollars to buy gold as its value declines. This is also why some investors look to gold as a hedge against inflation.
"Geopolitical flash points will continue to be very closely monitored for new developments," said Kitco analyst Jim Wyckoff. "Both situations are likely to worsen before they become better. The gold market, crude oil, U.S. Treasuries and the U.S. dollar should all at least see limited selling interest as these two developments play out."
Money Morning Resource Specialist Peter Krauth agreed that the price of gold is heading higher.
"The medium and longer term gold targets are very bullish," Krauth said earlier in June. "In fact, sentiment is rough in the precious metals space right now. But that only makes their future that much more compelling. Banks are accelerating their easing ever more."
As gold prices take off in the latter half of 2014, look to Money Morning's two-part "cheat sheet" that outlines the right amount of gold for your portfolio. You can get that gold investing guide - for free - here.
Related Articles:
Reuters: Gold Slips as Dollar Firms on Strong U.S. Data, Rate Hike Talk