Ahhh... the warm breeze I'm feeling. I can't figure out where it's coming from.
Oh, there it is. It's the air of confidence wafting over me knowing everything's as it should be with our too-big-to-fail banks, and that they're not going anywhere.
That the big banks are safe, that they have a handle on their assets and liabilities, and that the U.S. Federal Reserve's stress tests are a warm blanket that lets us all sleep well at night.
No, it doesn't bother me at all...
In fact, I'm going to sleep like a baby tonight... How about you?
No, it doesn't bother me like a cold sideways rain that there are mistakes here and there.
That small banks like Bank of America (NYSE: BAC), only the nation's largest retail bank, might not see, for something like six years, a minor miscalculation in some valuation book that tallies the pluses and minuses of holding plain-vanilla structured bond thingies.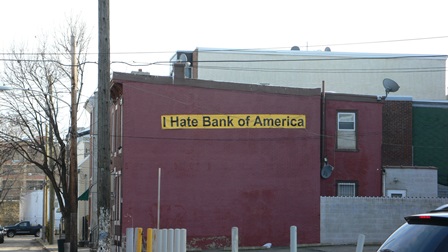 No, it doesn't bother me that a non-executive, non-senior regular old employee caught the $4 billion mistake - I mean miscalculation - in April as the bank was preparing yet another routine quarterly financial report.
It should bother all of us that these poor banks have to file all these nuisance quarterly reports when one annual report would save them from so many superfluous prying eyes, save so much wasted time and money.
No, it doesn't bother me that the head of Bank of America's board of director's five-member audit committee is Sharon L. Allen, the former chairwoman of a little accounting firm called Deloitte.
For goodness sake, how in this GAAPing world of accounting prestidigitation is she supposed to figure this accounting stuff out?
She's a board member, not an employee, for heaven's sake.
No, it doesn't bother me either that Ms. Allen and the entire audit committee and BofA's weak-ass auditors PricewaterhouseCoopers were just reelected the other day by shareholder lemmings, and that silly little pay packages of top executives were also approved.
Come on, these perps (sorry, I mean peeps) work hard for their money. Do you know how hard it is to be a member of five golf clubs?
But here - this here's what bothers me the LEAST.
Join the conversation. Click here to jump to comments…
About the Author
Shah Gilani boasts a financial pedigree unlike any other. He ran his first hedge fund in 1982 from his seat on the floor of the Chicago Board of Options Exchange. When options on the Standard & Poor's 100 began trading on March 11, 1983, Shah worked in "the pit" as a market maker.
The work he did laid the foundation for what would later become the VIX - to this day one of the most widely used indicators worldwide. After leaving Chicago to run the futures and options division of the British banking giant Lloyd's TSB, Shah moved up to Roosevelt & Cross Inc., an old-line New York boutique firm. There he originated and ran a packaged fixed-income trading desk, and established that company's "listed" and OTC trading desks.
Shah founded a second hedge fund in 1999, which he ran until 2003.
Shah's vast network of contacts includes the biggest players on Wall Street and in international finance. These contacts give him the real story - when others only get what the investment banks want them to see.
Today, as editor of Hyperdrive Portfolio, Shah presents his legion of subscribers with massive profit opportunities that result from paradigm shifts in the way we work, play, and live.
Shah is a frequent guest on CNBC, Forbes, and MarketWatch, and you can catch him every week on Fox Business's Varney & Co.