Anyone who did not "sell in May and go away" has likely enjoyed stock gains - especially in Nasdaq stocks.
Indeed, the Standard & Poor's 500 Index closed at 1,920 on Thursday, logging its 13th all-time high of 2014. As we close out May, the broad-based benchmark has soared nearly 2%, putting gains since the start of the year at 3.9%.
The Dow Jones Industrial Average, meanwhile, has mostly traded sideways this month. Still, the blue-chip index is on pace to end May in positive territory. It's up a modest 0.7% so far in 2014.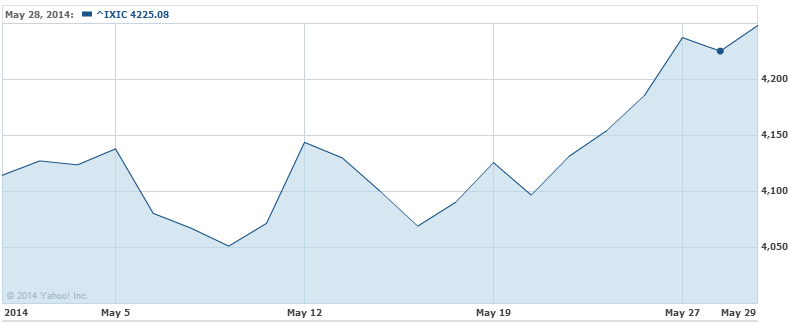 But, it's the Nasdaq Composite sporting the most intense rebound after two months in the red. The Nasdaq fell 4.2% from January to mid-April, but is up nearly 6% since then.
Following are 10 stocks that helped propel the Nasdaq higher recently. A common theme among the bunch is that they all fit into the micro-cap or biotech sectors. Additionally, almost all were spotted earlier this year by Money Morning.
10 Nasdaq Stocks Surging in 2014
RadNet Inc. (Nasdaq: RDNT) shares have gained more than 36% this month and are up a stratospheric 289.22% since the start of the year to $6.48. A Los Angeles-based provider of U.S. patient diagnostic imaging services, shares have soared amid a solid Q1 earnings report that handily beat Wall Street expectations and a rosy FY2014 outlook. Zacks Research thinks shares still have room to run.
LiveDeal Inc. (Nasdaq: LIVE) shares are up a blistering 263.33% year to date to $4.70 and are poised for more gains. Money Morning included the marketing company in our hot stocks to watch list mid-month. LIVE surged nearly 30% Wednesday after the company announced it will be added to Morgan Stanley Capital International's (MSCI) exclusive Global Index, providing an opportunity for the stock to gain worldwide recognition in global financial markets.
Keep reading for eight more Nasdaq stocks on fire this year - if you aren't already a Money Morning Member, sign up to access this list...