Anyone who did not "sell in May and go away" has likely enjoyed stock gains - especially in Nasdaq stocks.
Indeed, the Standard & Poor's 500 Index closed at 1,920 on Thursday, logging its 13th all-time high of 2014. As we close out May, the broad-based benchmark has soared nearly 2%, putting gains since the start of the year at 3.9%.
The Dow Jones Industrial Average, meanwhile, has mostly traded sideways this month. Still, the blue-chip index is on pace to end May in positive territory. It's up a modest 0.7% so far in 2014.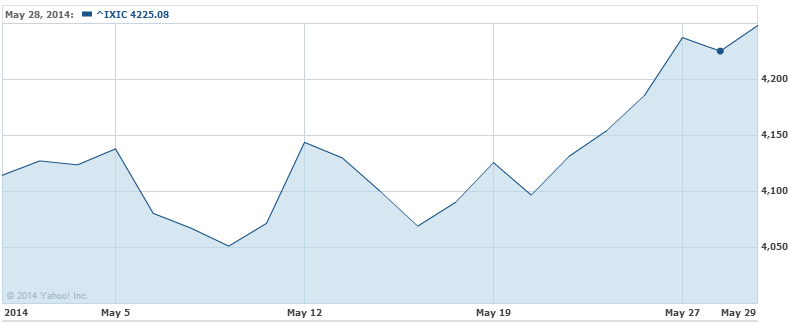 But, it's the Nasdaq Composite sporting the most intense rebound after two months in the red. The Nasdaq fell 4.2% from January to mid-April, but is up nearly 6% since then.
Following are 10 stocks that helped propel the Nasdaq higher recently. A common theme among the bunch is that they all fit into the micro-cap or biotech sectors. Additionally, almost all were spotted earlier this year by Money Morning.
10 Nasdaq Stocks Surging in 2014
RadNet Inc. (Nasdaq: RDNT) shares have gained more than 36% this month and are up a stratospheric 289.22% since the start of the year to $6.48. A Los Angeles-based provider of U.S. patient diagnostic imaging services, shares have soared amid a solid Q1 earnings report that handily beat Wall Street expectations and a rosy FY2014 outlook. Zacks Research thinks shares still have room to run.
LiveDeal Inc. (Nasdaq: LIVE) shares are up a blistering 263.33% year to date to $4.70 and are poised for more gains. Money Morning included the marketing company in our hot stocks to watch list mid-month. LIVE surged nearly 30% Wednesday after the company announced it will be added to Morgan Stanley Capital International's (MSCI) exclusive Global Index, providing an opportunity for the stock to gain worldwide recognition in global financial markets.
Keep reading for eight more Nasdaq stocks on fire this year - if you aren't already a Money Morning Member, sign up to access this list...
Intercept Pharmaceuticals Inc. (Nasdaq: ICPT) shares are on fire this year, up 246.06% to $239. Money Morning featured the biotech company in January when speculation swirled the company would receive fast-track regulatory approval for its promising pipeline drug to treat liver disease. Thursday, ICPT got a nod from the Food and Drug Administration (FDA) for fast-track designation for that treatment: obeticholic acid (OCA). The fast-track program is designed to facilitate the development and review of drugs intended to treat serious conditions and fill unmet medical needs.
Vertex Energy Inc. (Nasdaq: VTNR) shares have soared some 195.82% since the start of 2014 to $10. The Houston, Texas environmental services company, engaged in recycling industrial water streams and off-specification commercial chemical products, announced this month a 48% year-over-year increase in Q1 gross profits. Overall volume in products sold rose 41%. In March, Wunderlich started coverage of VTNR with a "BUY" rating.
Plug Power Inc. (Nasdaq: PLUG) shares have surged 181.76% year to date. Shares of the alternative fuel cell maker for trucks have been on a rollercoaster ride this year since PLUG was featured in January in our Penny Stocks: 5 Under $5. Shares currently change hands at $4.47, well off its high of $11.72 hit earlier this year. The stock tumbled in mid-May after a disappointing Q1 earnings report showed the company lost money - more than analysts had expected. While PLUG stock had climbed too high to be supported, it still has potential. Here's the full analysis of PLUG.
Pernix Therapeutics Holdings Inc. (Nasdaq: PTX) shares have popped 184.13% this year to $7.38. Money Morning wrote about Pernix earlier this month after PTX shares surged 35% amid the biotech's announcement it acquired the U.S. rights to Treximet from GlaxoSimthKline Plc (NYSE ADR: GSX) for $17 million. Treximet, used to treat acute migraine attacks in adults, booked net sales of $78.7 million in FY2013. Pernix said the transaction will immediately add revenue and earnings. Shares gained 10% Tuesday after Aegis boosted their rating on PTX to "Buy" from "Hold" with a $9 price target.
InterMune Inc. (Nasdaq: ITMN) shares have surged 171.72% year to date. In February, ITMN announced encouraging top-line results from phase III trials for Esbriet, used to treat adults suffering from idiopathic pulmonary fibrosis (IPF). Wednesday, ITMN resubmitted its New Drug Application (NDA) for Esbriet in the United States in response to a Complete Response Letter received in May 2010. Analysts believe chances of Esbriet receiving U.S. FDA approval have greatly improved. The FDA has 74 days to evaluate the resubmission and will render a final decision within six months of receipt of the NDA.
Furiex Pharmaceuticals Inc. (Nasdaq: FURX) shares have risen a meteoric 147.80% to $103.82 so far in 2014. Money Morning covered FURX in February when shares more than doubled, surging some 150%, after the company announced its experimental drug eluxadoline significantly alleviated diarrhea and abdominal pain, which typically accompany irritable bowel syndrome (IBS), in two large late-stage trials. The biotech also landed on our hot stocks to watch list in April after agreeing to be bought by Forest Laboratories Inc. (NYSE: FRX). The takeover was just today given the go-ahead from U.S. regulators.
Horizon Pharma Inc. (Nasdaq: HZNP) shares are up a healthy 88% year to date to $15.08. Shares caught Money Morning's radar in March when the Deerfield, Ill.-based specialty pharmaceutical company jumped more than 15% on news it was acquiring privately held Dublin-based Vidara Therapeutics International Ltd in a cash-and-stock deal valued at $660 million. We noted that a key benefit in the buy is it allows the Illinois-headquartered company to take advantage of Ireland's low corporate tax rate of 12.5% versus America's rate of 35%.
MannKind Corp. (Nasdaq: MNKD) shares are up a marvelous 71.54% so far in 2014. Shares of the biotech company doubled in April after its inhaled diabetes treatment, Afrezza, was recommended for approval by an FDA advisory committee. A decision is expected by July 15. Money Morning explained Afrezza would be the first of its kind treatment for diabetes. Excitement surrounding its possibilities is palpable.
NEXT: According to Barron's, a whopping 85% of all investor "sell" or "exchange" decisions are wrong. But you can beat the 85% with these simple steps...