Just because Bitcoin is a disruptive technology doesn't mean we won't see some Bitcoin stock winners – companies that will exploit the digital currency for the benefit of their own businesses.
We can find Bitcoin stock winners in several industries. Some are reaping a benefit now, while others will need to wait a few years until Bitcoin "goes mainstream," and average people start using it.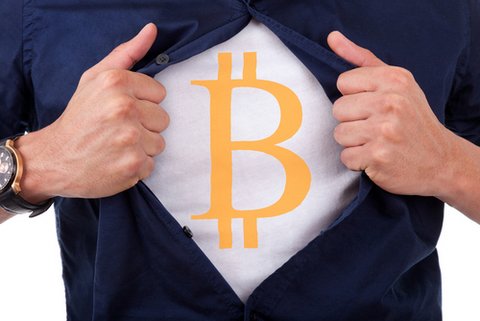 One industry that falls into the latter category is retailers, and online retailers in particular. Right now offering Bitcoin as a payment option is not going to be a major part of anyone's business, but it figures to grow as the Bitcoin ecosystem matures.
Bitcoin appeals to merchants because the 1% fees that processing companies like Coinbase and BitPay charge are much lower than the 2% to 3% fees they pay to credit card companies like Visa Inc. (NYSE: V) and MasterCard Inc. (NYSE: MA). Plus, because the transactions include no personal data, Bitcoin is more secure than credit cards or debit cards.
But the first movers in this area – Overstock.com Inc. (Nasdaq: OSTK) and Tiger Direct (a subsidiary of Systemax Inc. [NYSE: SYX]) – have reported some very promising early results.
Taking Bitcoin Pays Off for These Bitcoin Stock Winners
Overstock says Bitcoin has accounted for about $1.4 million in sales since it started accepting the digital currency in January. That's only about 0.4% of the online retailer's total sales, but the company has reason for optimism.
That's because customers paying with Bitcoin have spent 34% more than other customers. Better still, 58% of those using Bitcoin were new customers.
And that's been typical of the retail experience with Bitcoin.
Tiger Direct says it has also noticed that Bitcoin users spend more than other customers and is thrilled that 80% of them are new to Tiger Direct.
BloomNation, a startup that enables local florists to reach customers directly, started accepting Bitcoin just before Valentine's Day. BloomNation says customers using Bitcoin have spent about 50% more than other customers.
What would really shake up the retail world would be if one of the giants – Amazon.com Inc. (Nasdaq: AMZN) or eBay Inc. (Nasdaq: EBAY) – started accepting Bitcoin.
Amazon has shown little interest so far, but eBay Chief Executive Officer John Donahoe has spoken favorably about Bitcoin in recent weeks and has strongly hinted that Bitcoin will soon be accepted at eBay and its subsidiary, PayPal.
"Digital currency is going to play an important role going forward," Donahoe said in a recent CNBC appearance. "At PayPal we're going to have to integrate digital currencies in our wallet."
But while the benefit to retailers so far has been incremental, one group of Bitcoin stock winners is profiting now…