The gold price per ounce was on track for a fourth straight weekly gain today (Friday) – our up-to-date gold price chart reflects that the yellow metal is floating around its highest price since mid-April, achieved earlier this week.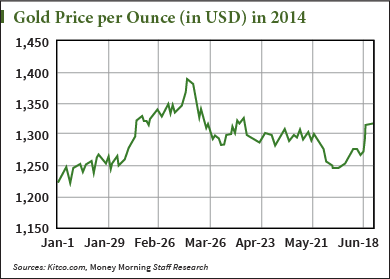 Today, gold for August delivery was up $0.50 at $1,317.50 per ounce on the Comex division of the New York Mercantile Exchange. Spot gold price per ounce was nearly flat, down $0.10 at $1,317.25. The London a.m. gold fix is up at $1,315.25 compared to the previous p.m. fixing of $1,311.75.
In late May, gold tumbled to its lowest level in four months, $1,243.00. But on June 19, gold futures surged past $1,300 an ounce in a best one-day performance in nine months, and have been steady or rising since.
Traders warned the metal could still see some choppy trading amid concerns over weak imports in top consumer China, according to Reuters.
Here's the top market news affecting gold prices right now…
Top Stories Affecting Gold Spot Price per Ounce Right Now
Hawkish remarks from St. Louis Fed President James Bullard yesterday (Thursday) are weighing on the yellow metal. Bullard told FOX Business that the Federal Reserve could hike interest rates as soon as the first quarter of 2015, as inflation is likely to hit 2% in the latter half of this year.
Hiked interest rates are bad news for gold prices, which typically weaken when interest rates go up because investors seek out higher-yielding assets.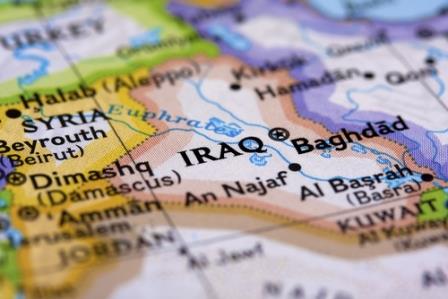 But fueling gold price per ounce is geopolitical turmoil in Iraq. On Thursday, Iraqi Vice President Khader al Khuzaei issued a decree calling for the parliament to meet on Tuesday to create a new government as the Islamic State of Iraq and Greater Syria (ISIS) advances toward Baghdad. Seven were killed and 36 injured in an explosion in a northern neighborhood of the capital last night, according to Iraqi police.
Iran and the United States have reportedly dispatched military advisors to assist Baghdad's defense. Both countries are also flying surveillance drones over Iraq, according to FOX News. The United States remains cautiously concerned that its involvement may deepen sectarian tensions in the country, due to Syria's and Iran's involvement.
"It's very important that nothing takes place that contributes to the extremism or could act as a flashpoint with respect to the sectarian divide," U.S. Secretary of State John Kerry said on Wednesday.
That's not the only news sending gold price per ounce soaring in late June…