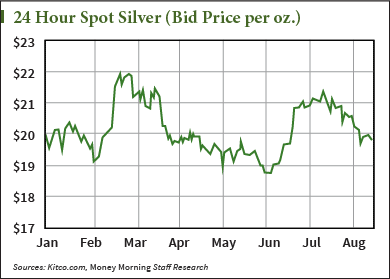 Silver prices this week have been slow and steady, continuing an uneventful August during which the white metal has traded in a narrow range.
As of market close yesterday, the price of New York spot silver on the COMEX was around $19.86 an ounce, down a slight 0.3% on the week. Silver futures for September delivery, the most actively traded contract month, were down just $0.03 at the close of market to $19.91.
The iShares Silver Trust (NYSE Arca: SLV), an exchange-traded fund (ETF) that holds physical silver bullion in JPMorgan Chase & Co. (NYSE: JPM) vaults in London and New York, is down $0.09 at $19.10 as of yesterday's close. The ETFS Physical Shares Trust (NYSE Arca: SIVR), a close alternative to the premier silver fund, SLV, was down $0.08 on the week to $19.61.
In early morning trading today (Friday), spot silver took a dive and traded as low as $19.45. These are lows that haven't been seen since silver bottomed out in late May moving into June, just before a six-week rally that took silver on a ride from below $19 an ounce to around $21.50.
However, while silver will recoup from its recently slow trading in July, its next rally isn't quite ready to take off.
Here's why silver has a few more weeks before it hits higher prices…
Speculation Holding Silver Prices Down
Silver this year has been very sensitive to the speculators. The inverse correlation has been very high in 2014, suggesting that the more short positions speculators stake out, the more silver falters.
That's why in late May, as speculators were taking out a record number of short contracts, prices traded as low as $18.76. That came at a time when silver was plunging into a three-month long bear session.
Fortunately, there is a breaking point.