As incredible as it seems, Apple Inc. (Nasdaq: AAPL) is on track to become America's first $1 trillion company by 2018.
That means the Apple stock price will need to get to about $167 a share, a fair distance from its current $102.50 a share and market cap of about $613.5 billion.
But given the trajectory of its current businesses, as well as the additive punch of several new areas Apple will soon enter, a market cap of $1 trillion is a very attainable target. Lately AAPL stock been on the move; just this morning (Friday) it set a 52-week high of $102.90.
It would set a mark in the corporate world that few companies have ever come close to reaching.
The Rarely Seen $1 Trillion Market Cap Milestone
Apple itself reached a peak valuation of about $657.8 billion back in September of 2012, when AAPL stock hit its pre-split high of $702 a share.
The next closest was Apple rival Microsoft Corp. (Nasdaq: MSFT) which hit a market cap of $616 billion in 1999, at the peak of the dot-com bubble. Some argue Microsoft holds the U.S. crown if you account for inflation, which would put its 2014 equivalent at about $875 billion.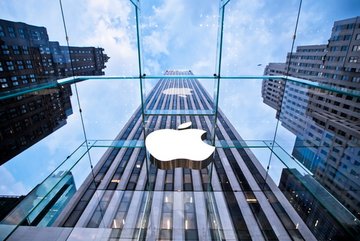 But sticking with nominal values, only one company in the world ever hit the magic $1 trillion mark – PetroChina Company Ltd. (NYSE ADR: PTR), which managed it briefly in its debut on the Shanghai stock exchange in 2007.
When its stock price tripled that day, PetroChina had a market cap of $1.2 trillion – but the shares almost immediately started falling. Since then its valuation has dropped to under $300 billion.
All this shows how excruciatingly difficult it is for any company to reach the $1 trillion mark.
But Apple can do it, and almost certainly will.
When you break it down, the company's businesses are more than capable of generating the profits required to get the AAPL stock price where it needs to be – just look at these numbers…